FOR IMMEDIATE RELEASE
Media Contact
Deesha Laxsav
Senior Manager, Brand Marketing
awards@clutch.co
Washington, D.C., December 6, 2022 — Clutch, a trusted B2B review and ratings resource, releases its data-driven rankings for the global best developers and IT services providers for 2022.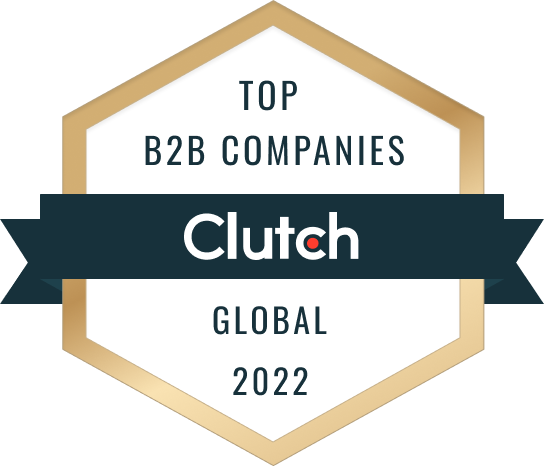 This year saw another significant increase in the global budget for information technology services, hitting as high as $3.92 trillion as more and more businesses adopt new innovations. The e-commerce industry contributes a notable percentage to the jump, presenting a positive outlook for the industry.
To honor the companies that play crucial roles in the thriving development and IT industry, Clutch is recognizing the top-performing firms from various categories like blockchain, cybersecurity, and staff augmentation.
The recipients of the award are chosen based on their industry expertise and commitment to providing stellar customer service. The Clutch Leader Awards take into account several key factors such as former clients, services offered, and case studies.
"Clutch is genuinely thrilled to honor the brilliance of the global leaders in the ever-evolving development and IT services spaces," said Clutch Director of Operations Kimmie Champlin. "The drive and passion you show the world are infectious. Enjoy this feat and best of luck with your future endeavors!"
Is your company interested to be part of the rankings? Get listed on Clutch right away and find out more about the qualifications.
Top Service Providers
Application Management and Support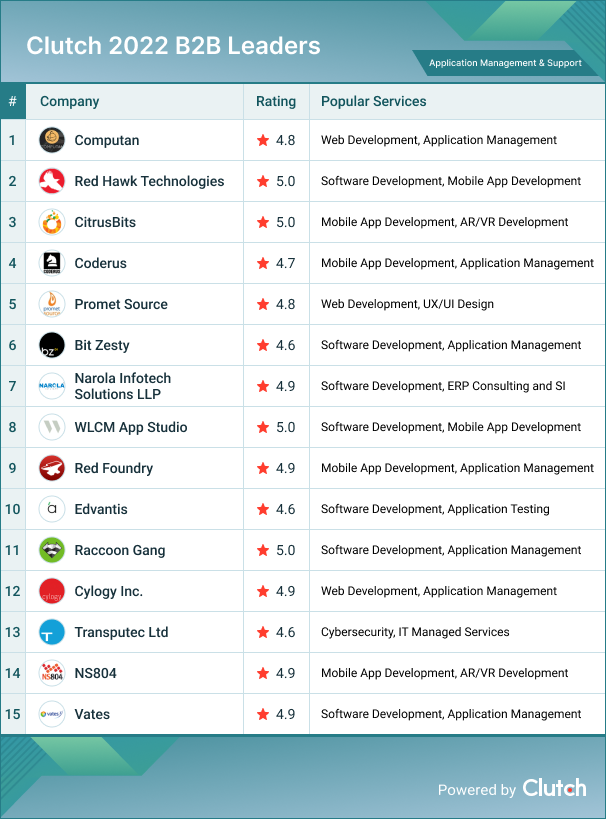 AR/VR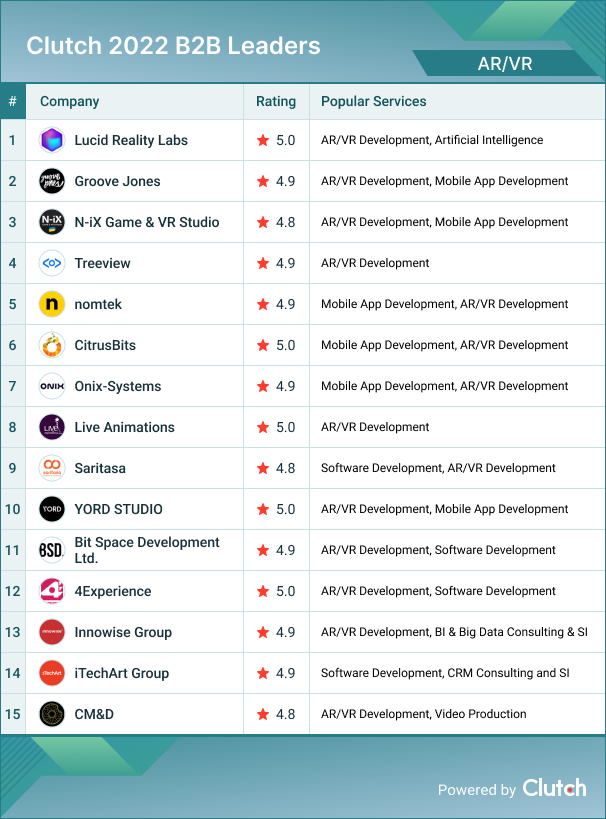 Artificial Intelligence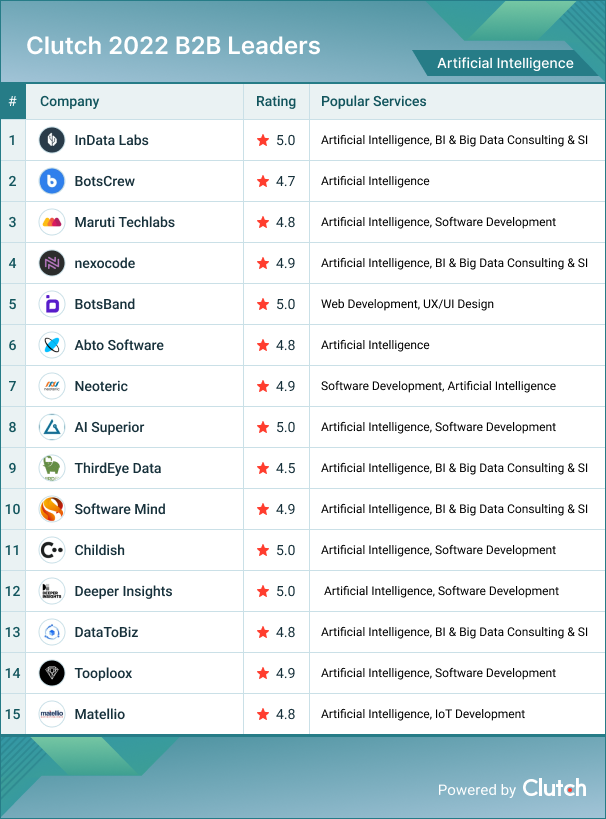 BI and Big Data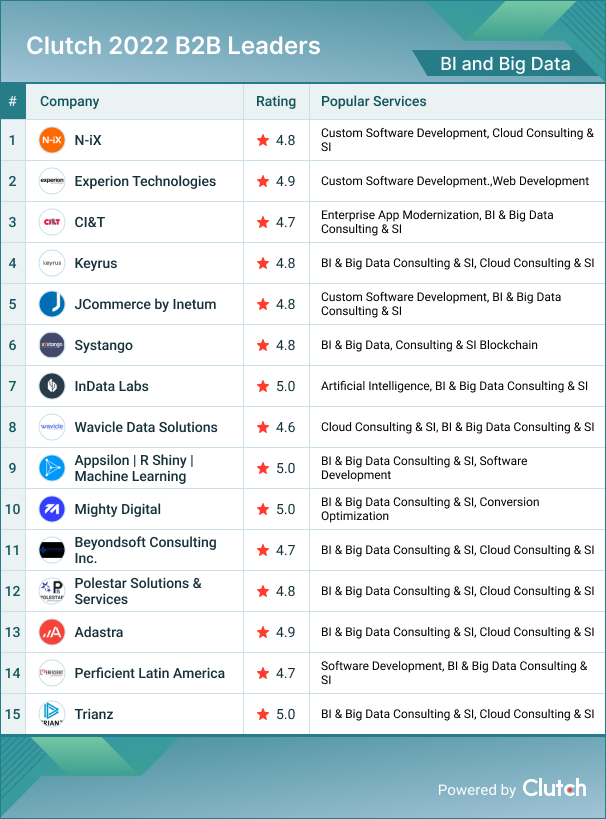 Blockchain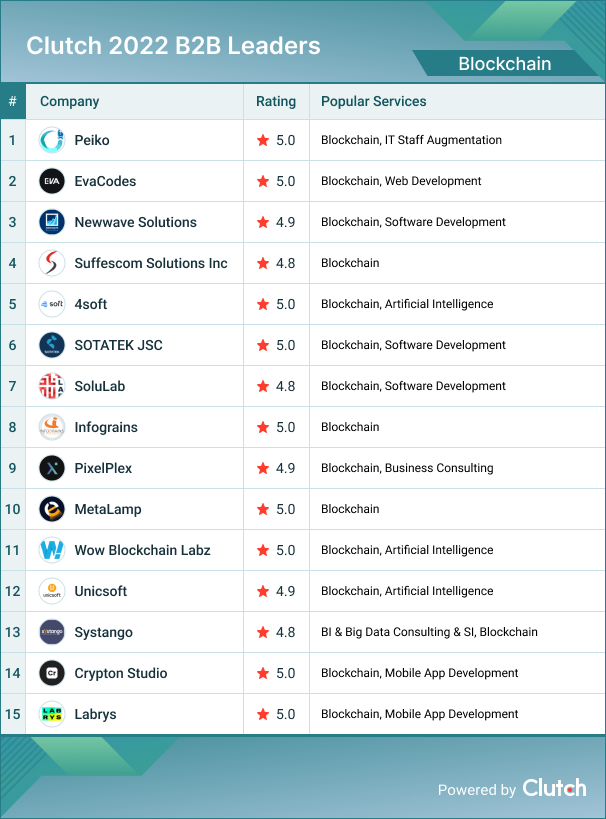 Cloud Consulting
CRM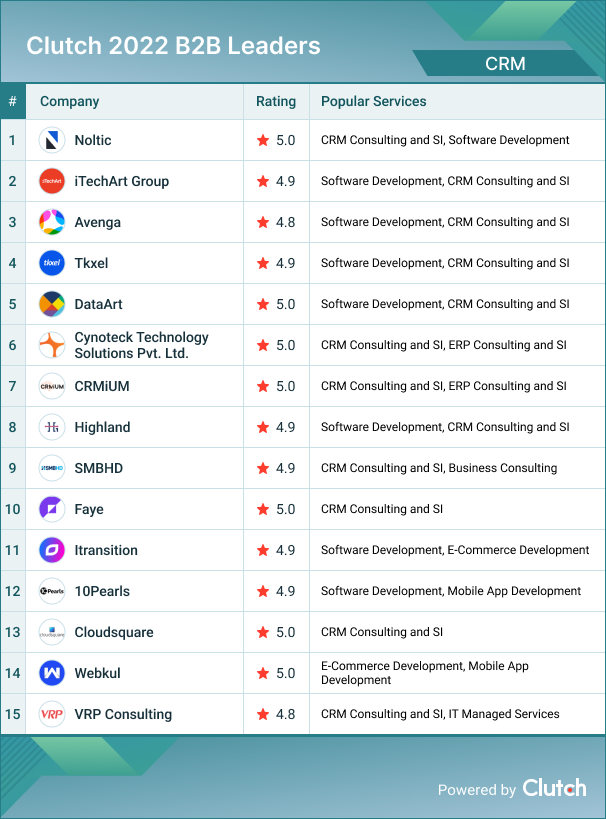 Cybersecurity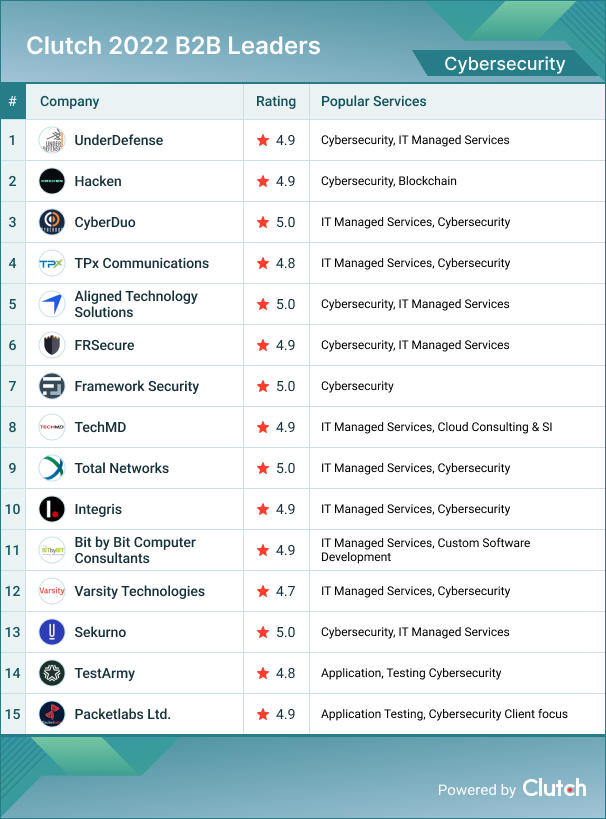 ECM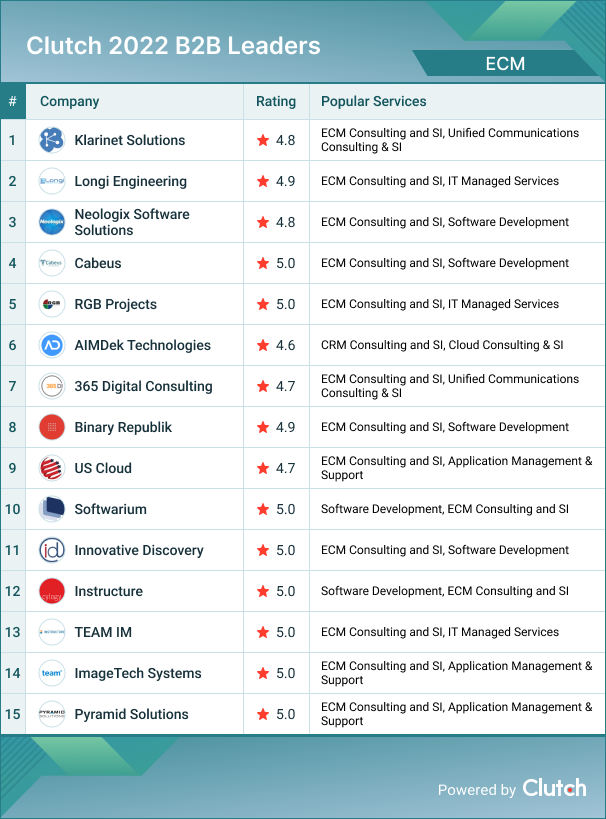 eCommerce

IoT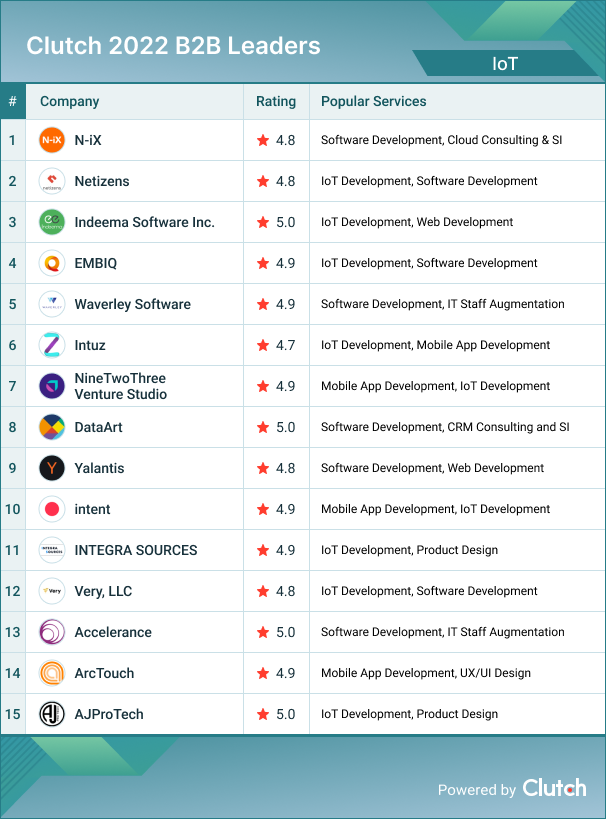 IT Services

Managed Service Providers

Mobile App Development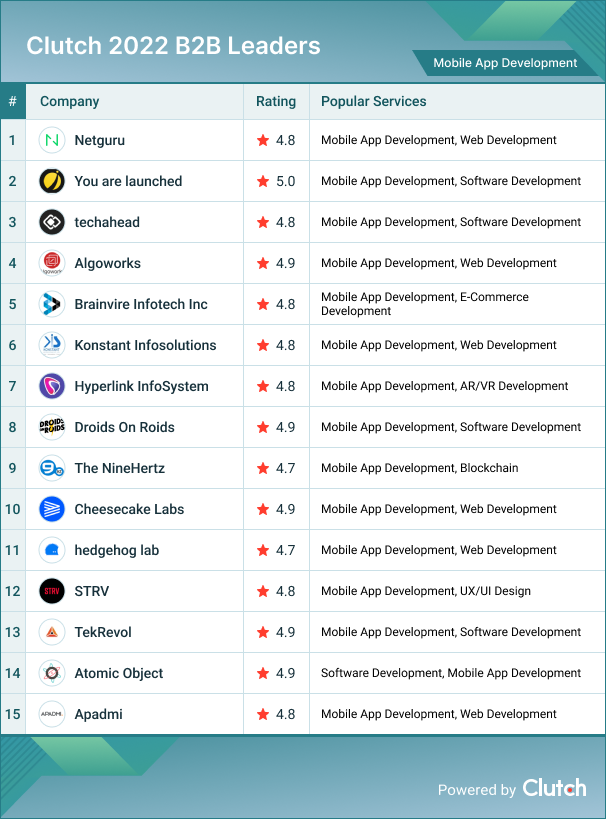 Software Developers

Software Testing

Staff Augmentation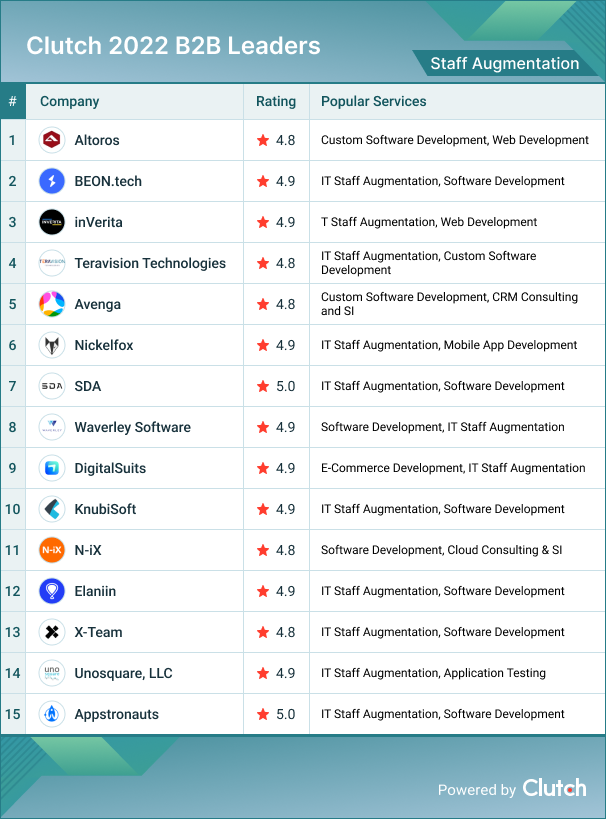 Systems Integration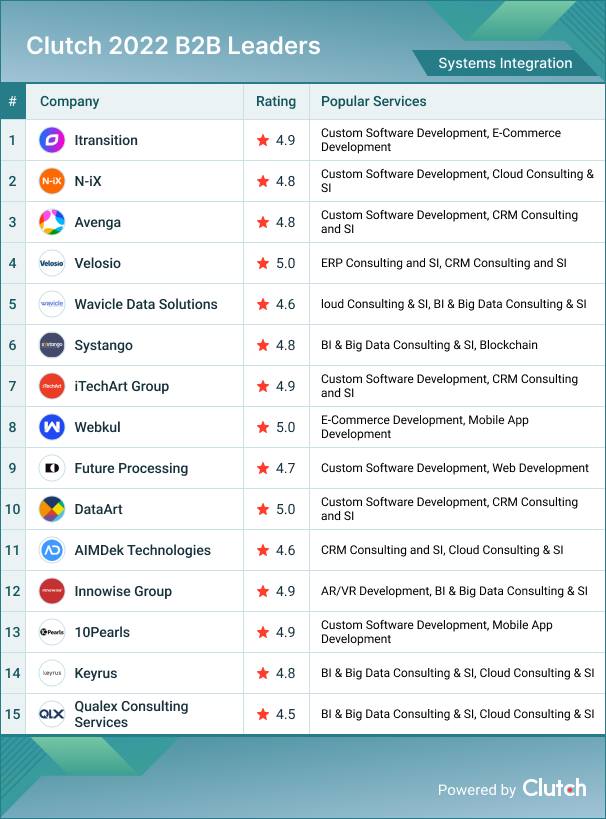 Wearables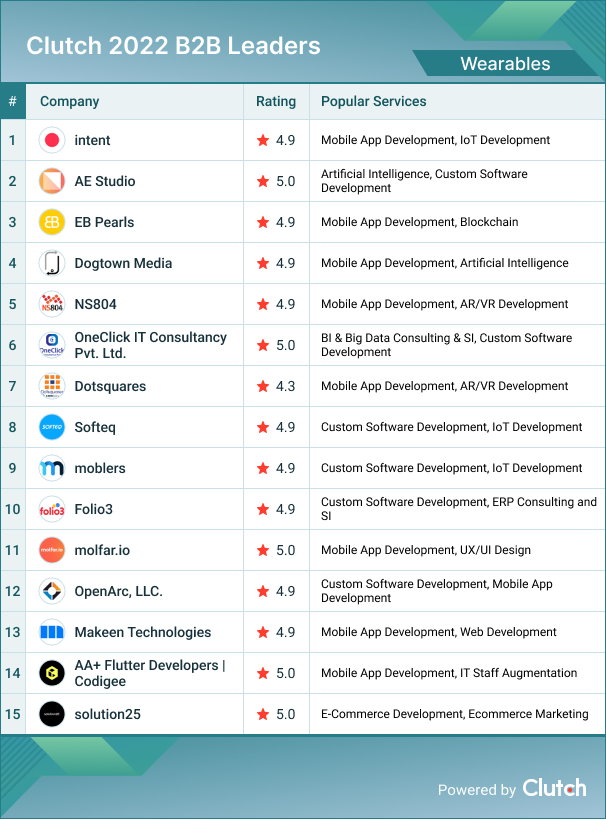 Web Developers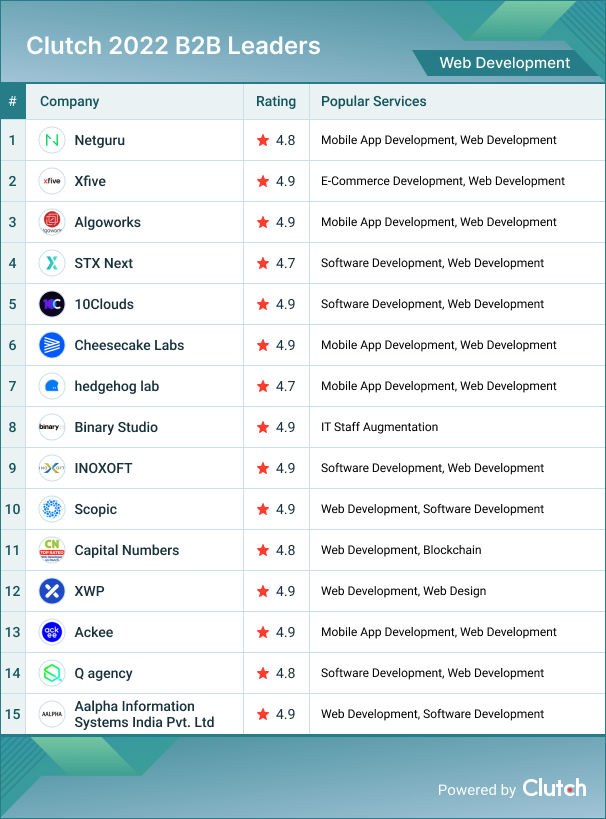 Results are a snapshot of Clutch's Leaders Matrices on November 22, 2022. Rankings are dynamic, and this report may not reflect the rankings currently listed on Clutch's website.
About Clutch
Clutch empowers better business decisions as the leading global marketplace of B2B service providers. More than 1 million business leaders start at Clutch each month to read in-depth client interviews and discover trusted agency partners to meet their business needs. Clutch has been honored for the past 5 consecutive years as an Inc. 5000 fastest-growing company and by the Washington Business Journal as one of the 50 fastest growing private companies in the DC metro area for 2022.
###