FOR IMMEDIATE RELEASE
Media Contact
Deesha Laxsav
Senior Manager, Brand Marketing
awards@clutch.co
Washington, D.C., December 6, 2022 — Washington DC-based B2B market research and ratings website, Clutch highlights the top-performing global advertising and marketing agencies for 2022.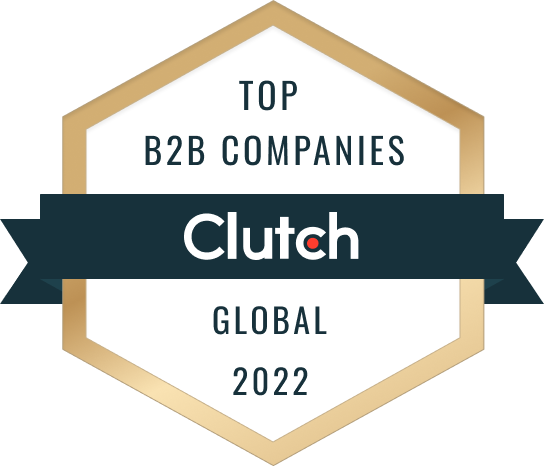 The global market size of the advertising and marketing industry is widely projected to continue growing, reaching around $946.9 billion in 2027. The pandemic along with steady digitalization across various business sectors contribute to booming online ad and marketing initiatives.
To honor the major players that drive the thriving industry, Clutch is taking a moment to celebrate the global best advertising and marketing services providers. The awardees come from a variety of categories including branding, public relations, and digital strategy. Throughout the year, Clutch analysts evaluated countless firms based on a strict set of criteria to determine the best and brightest from the sector.
"It's one thing to have goals, but it's another to take action. These firms aimed high and delivered for their clients. We are in awe of their dedication," said Clutch Director of Revenue Clayton Kenerson. "Here's a toast to the finest leaders in the global advertising and marketing scene! We can't wait to see more of your success!"
Be a part of next year's rankings! Start your journey on Clutch by creating a vendor profile. Earn raving reviews and climb the leaders' list.
Top Service Providers
Advertising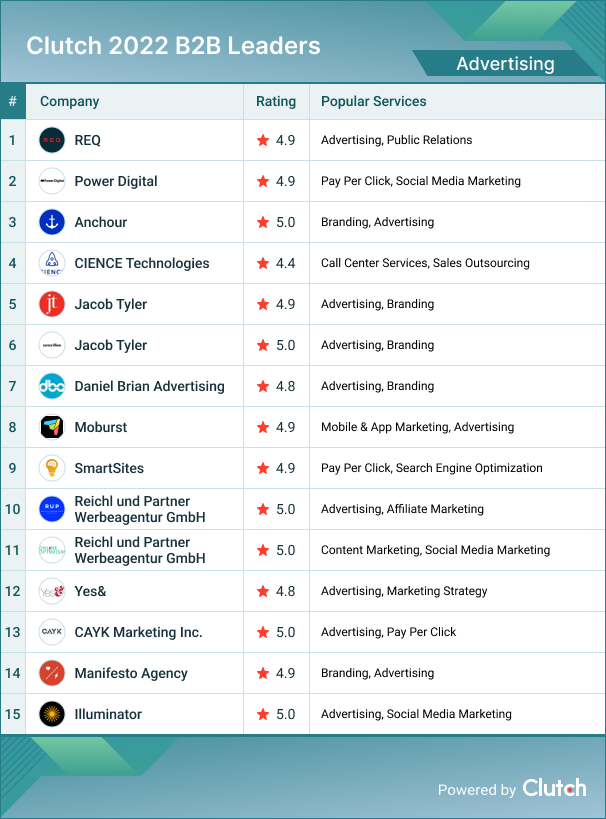 Affiliate Marketing

Branding

Content Marketing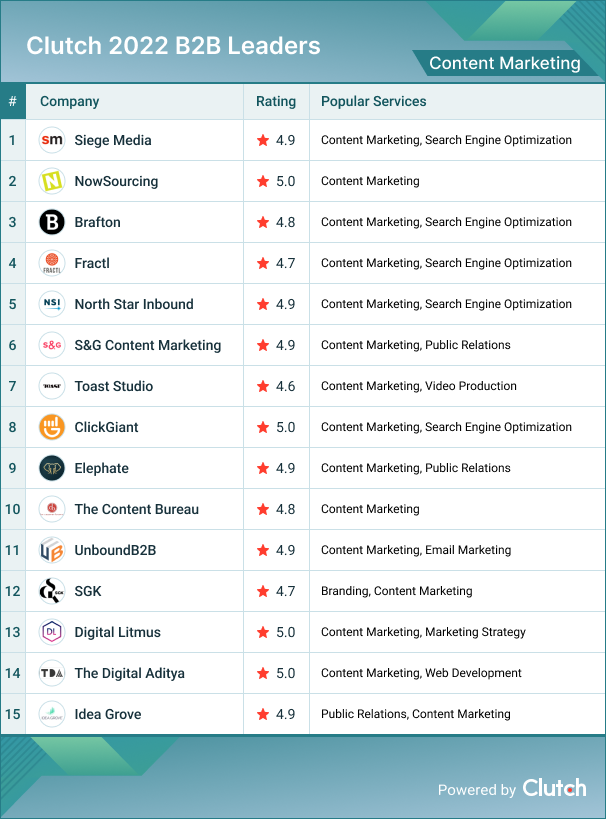 Conversion Optimization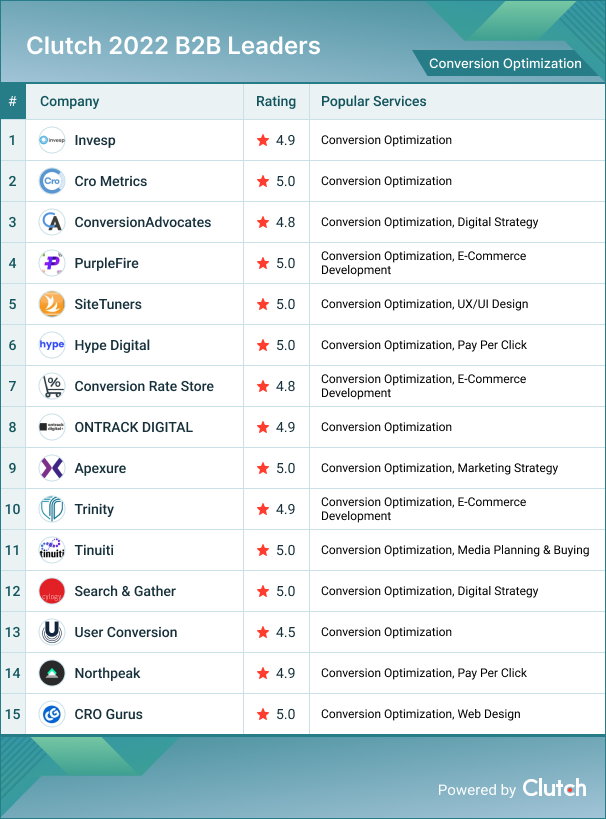 Corporate Branding
Digital Marketing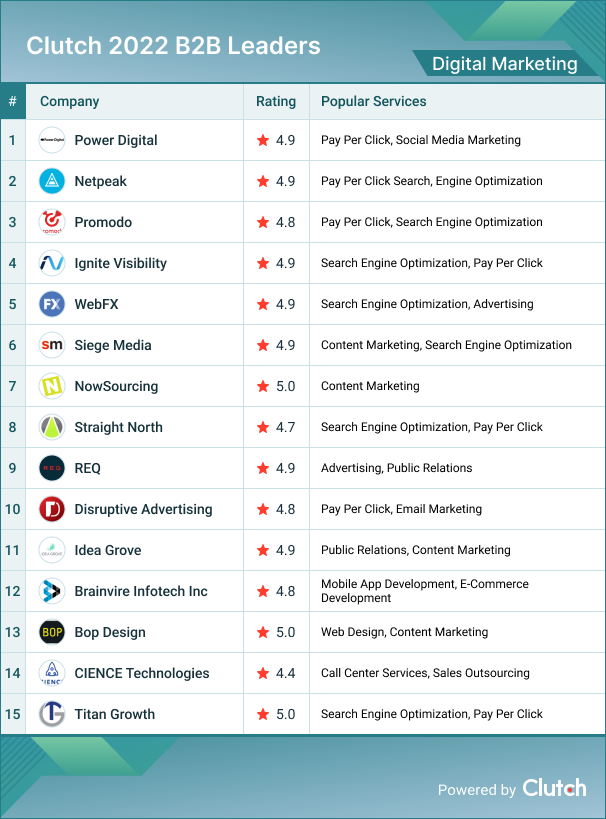 Digital Strategy

Email Marketing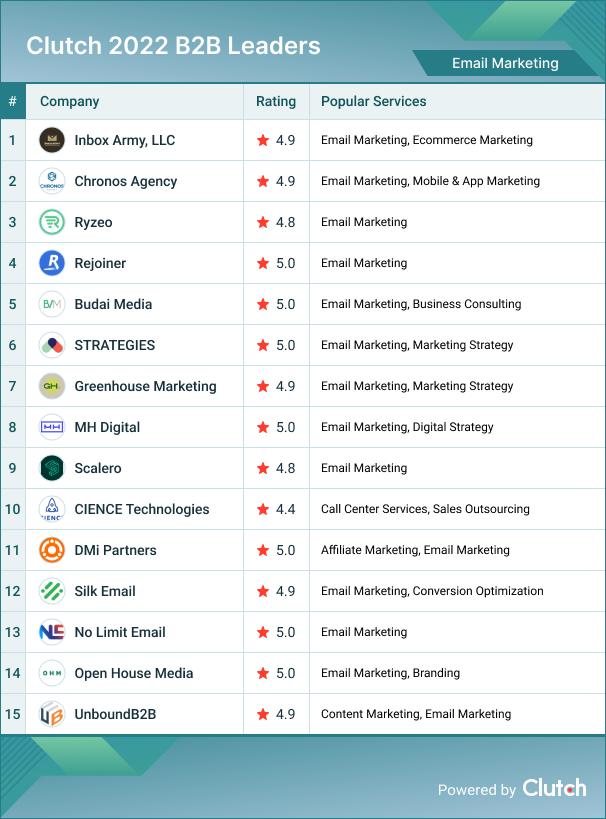 Event Marketing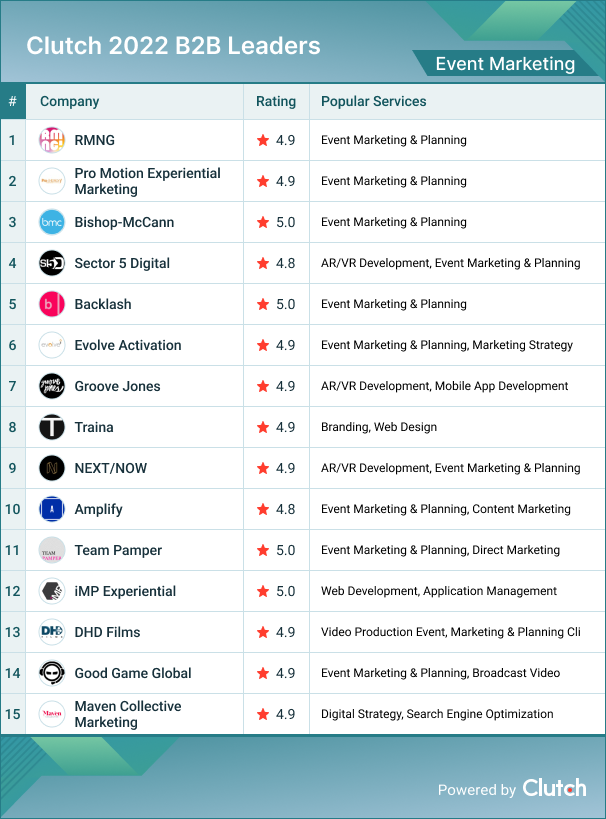 Logo Design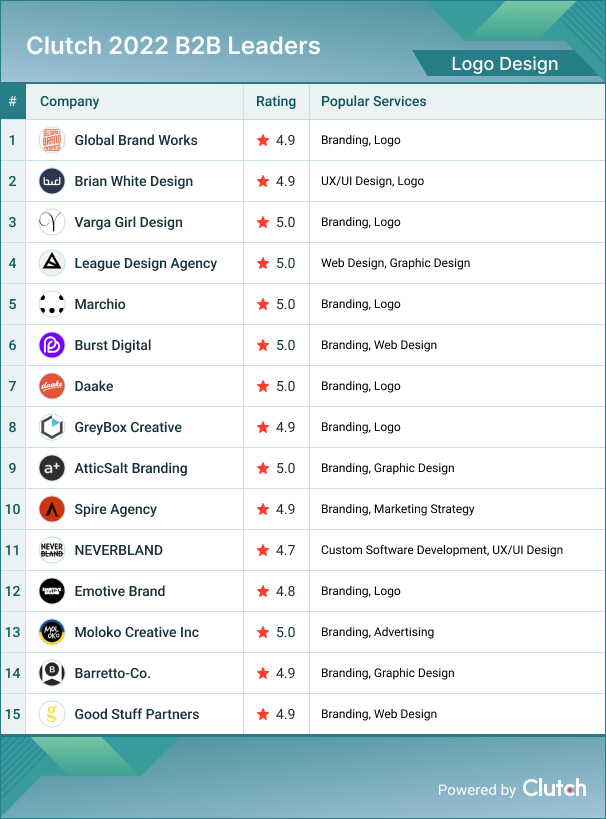 Marketing Strategy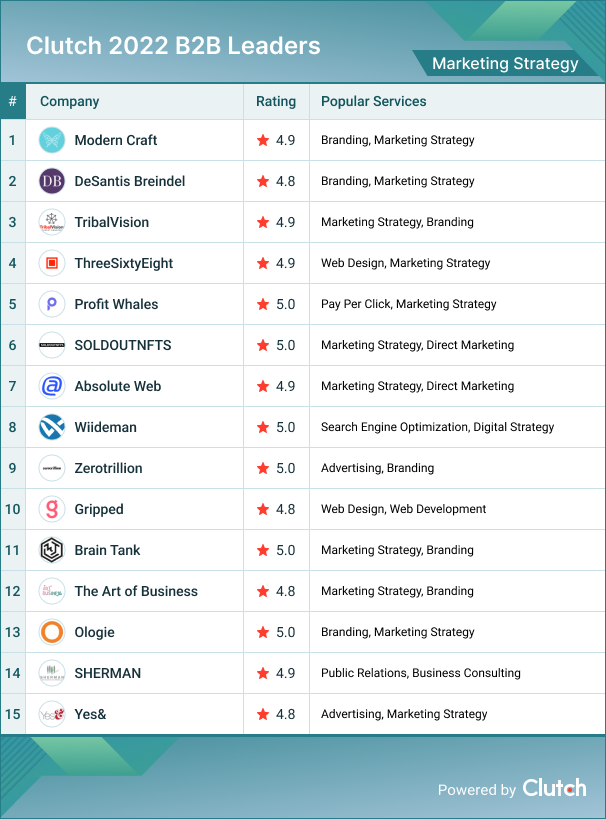 Media Planning and Buying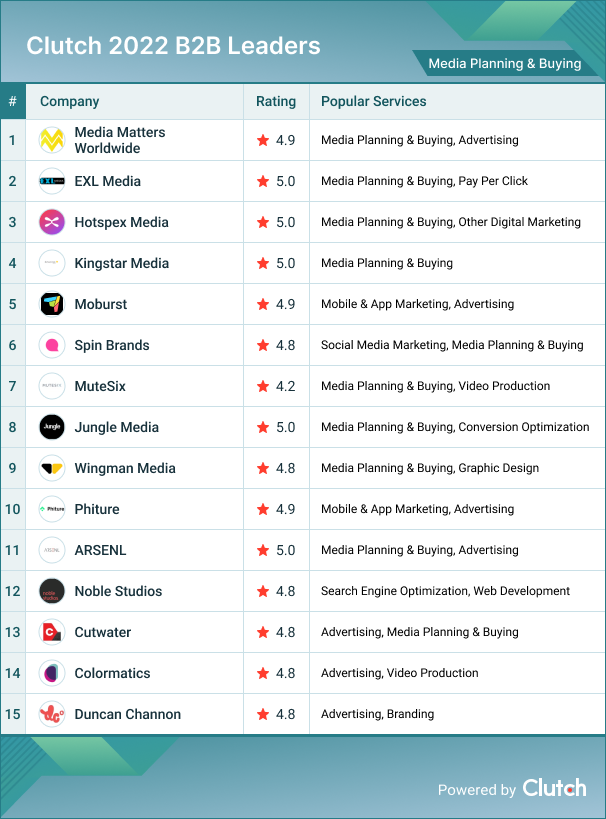 Mobile & App Marketing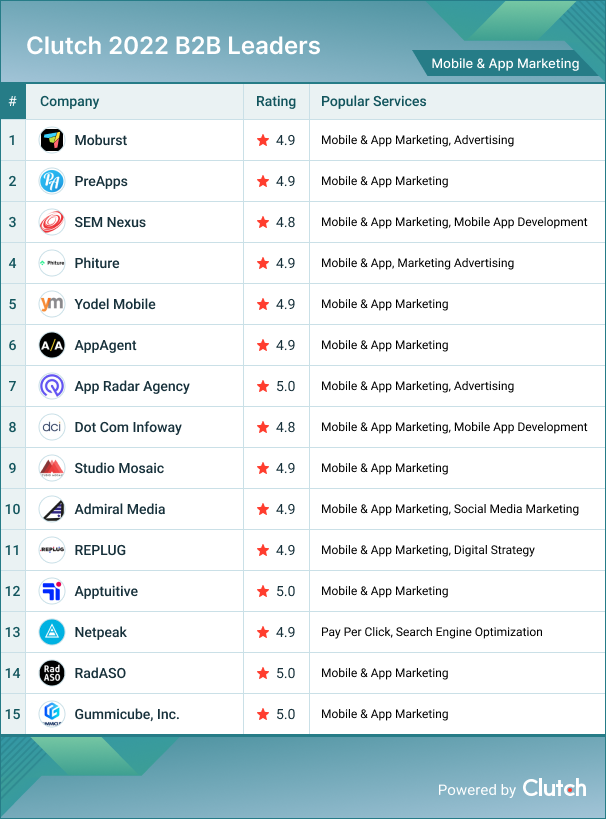 Out-of-Home Media Buying

PPC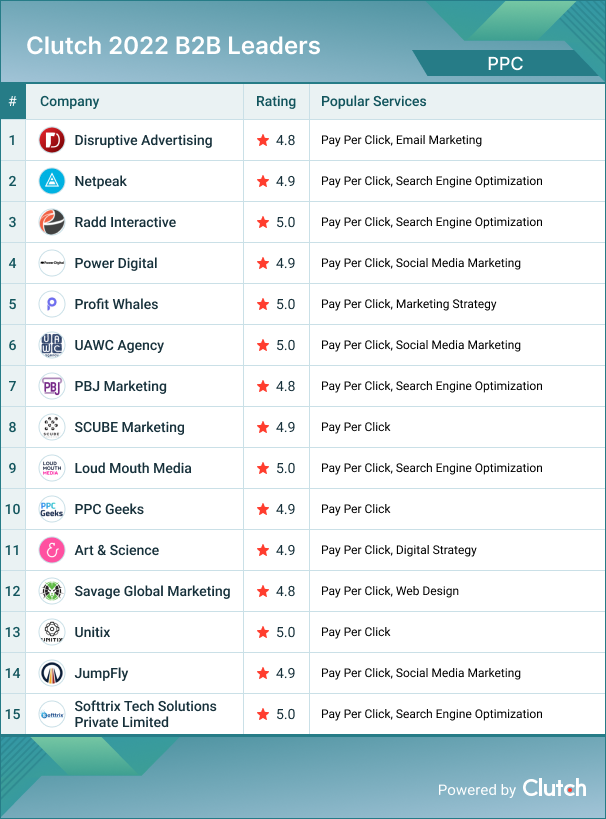 Public Relations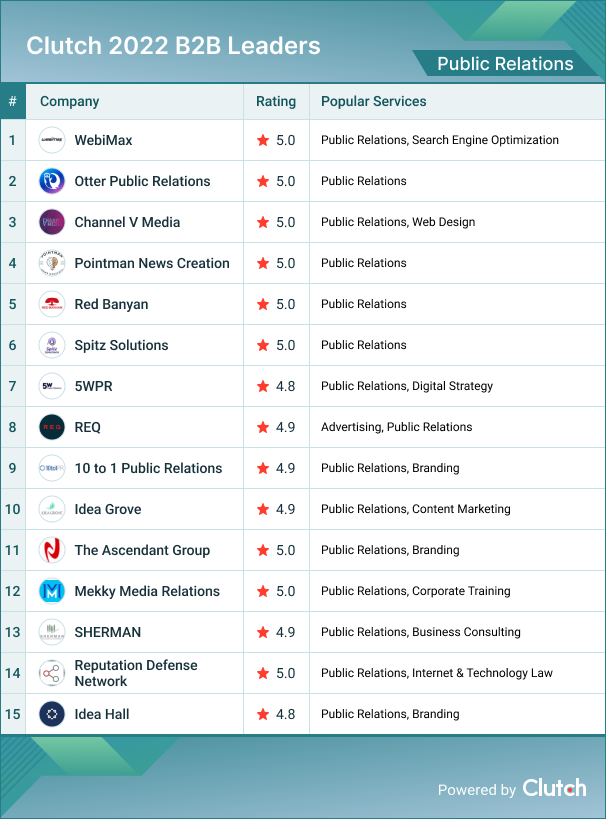 SEM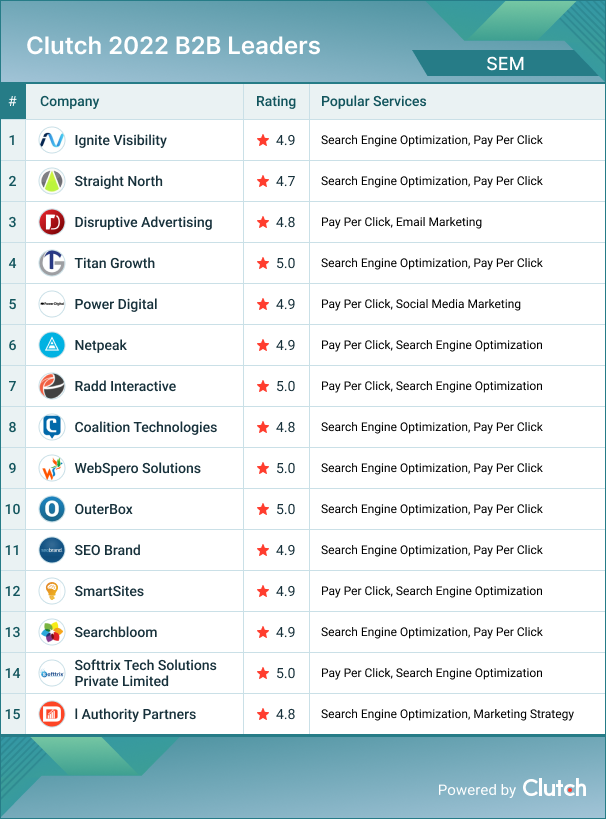 SEO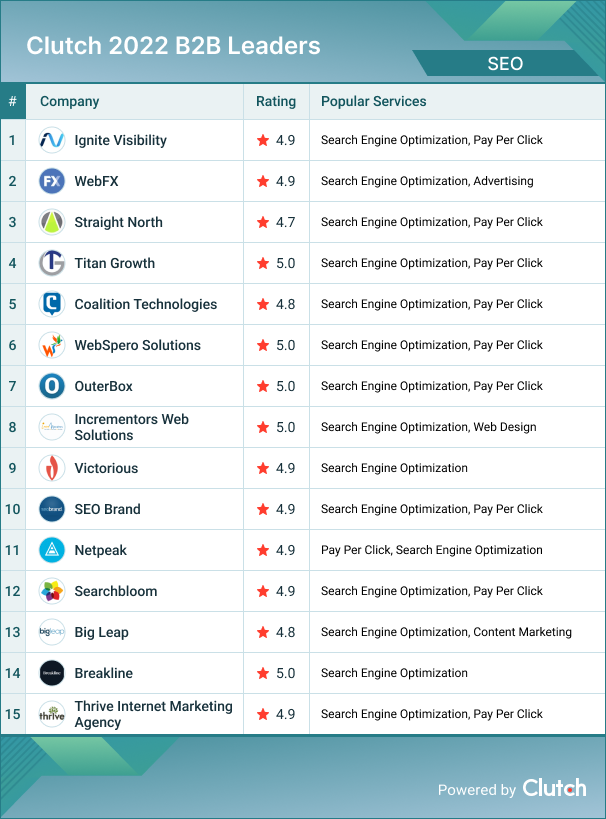 Social Media Marketing
Results are a snapshot of Clutch's Leaders Matrices on November 22, 2022. Rankings are dynamic, and this report may not reflect the rankings currently listed on Clutch's website.
About Clutch
Clutch empowers better business decisions as the leading global marketplace of B2B service providers. More than 1 million business leaders start at Clutch each month to read in-depth client interviews and discover trusted agency partners to meet their business needs. Clutch has been honored for the past 5 consecutive years as an Inc. 5000 fastest-growing company and by the Washington Business Journal as one of the 50 fastest growing private companies in the DC metro area for 2022.