FOR IMMEDIATE RELEASE
Media Contact
Morgan Flores
Senior Manager of Content Strategy & SEO
awards@clutch.co
Washington, D.C., February 22, 2022— Clutch, an independent business-to-business reviews and ratings site, issues its official 2022 leaders' ranking for the cutthroat BPO space.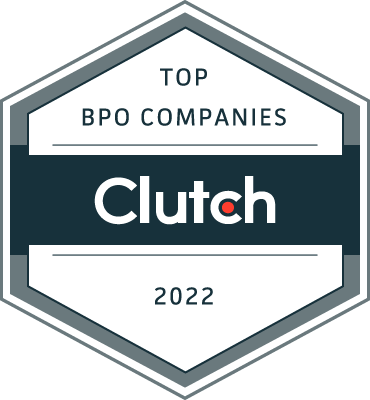 As companies and organizations seek to leverage themselves, the global BPO industry flourishes. Researchers predict that the global BPO market size will surge to about $314.81 billion by 2025, recording an impressive 7.65% compound annual growth rate.
Clutch is dedicated to celebrating the impact and showcasing the striking excellence of the top companies from different sectors and regions. In this list, the platform gives the limelight to the best players in the ever-competitive BPO space. 
The leaders chosen for this recognition met Clutch's strict selection methodology. The five main criteria evaluated are:
Services offered
Former clients
Case studies
Awards received
Social media presence
"Despite the challenges and hurdles, these leaders showed why they are the best at the game through unwavering commitment and brilliance," said Clutch Business Development & Partnerships Manager Ricardo Real Preciado. "Clutch is honored to share their stories and celebrate their success. Congratulations on the award!"
Only companies that have a Clutch profile can be considered for these annual lists. Get started today to qualify for the next list of B2B leaders.
Top Service Providers
Claims Processing
Data Entry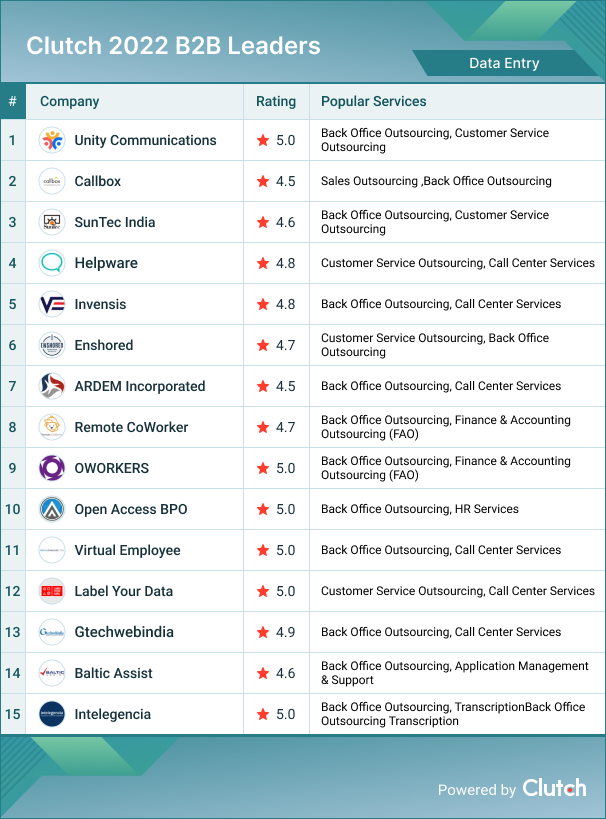 Legal Outsourcing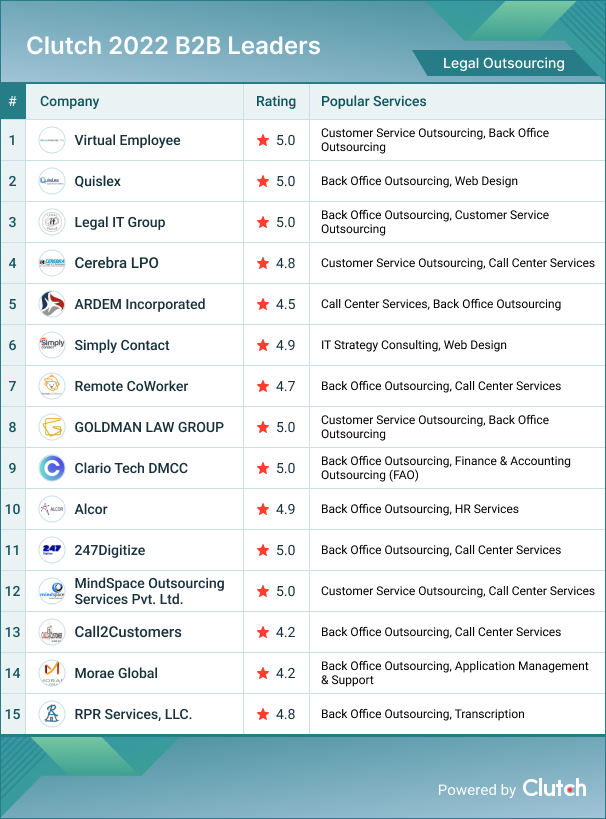 Medical Billing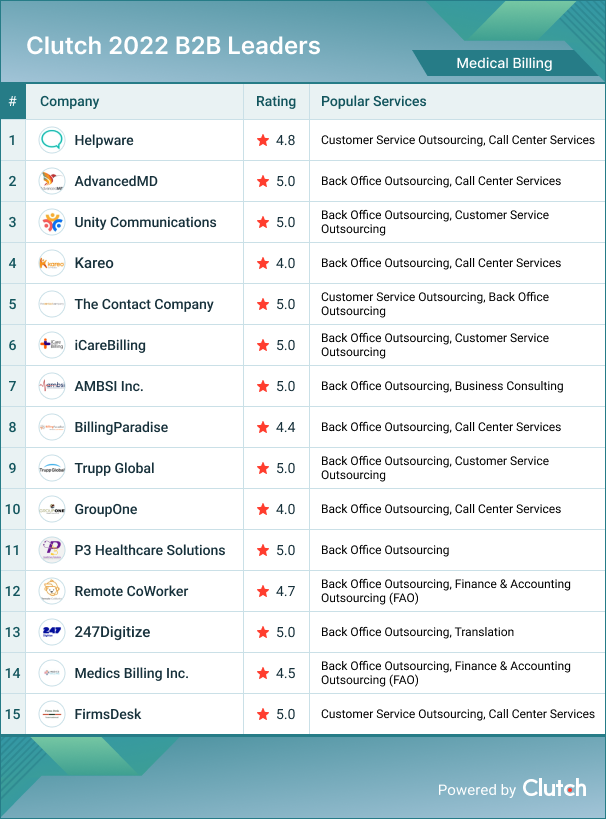 Payment Processing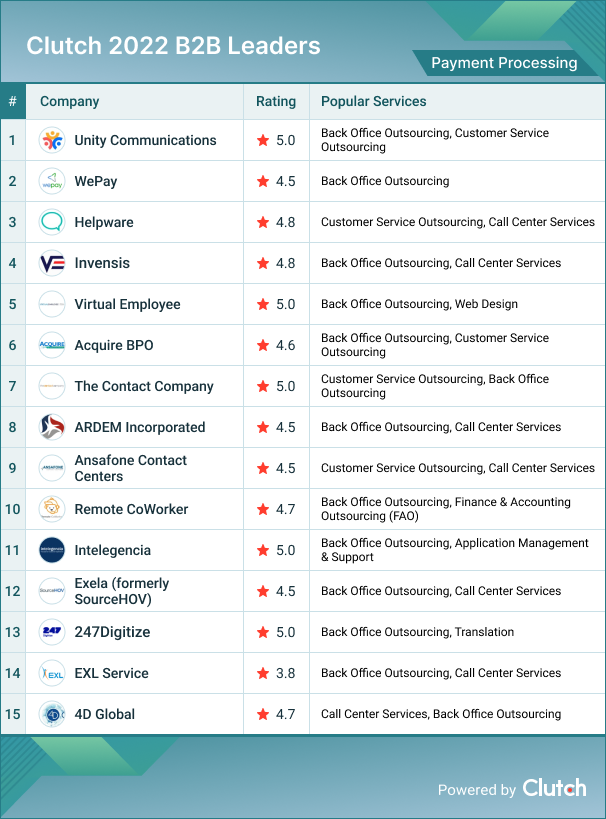 Virtual Assistants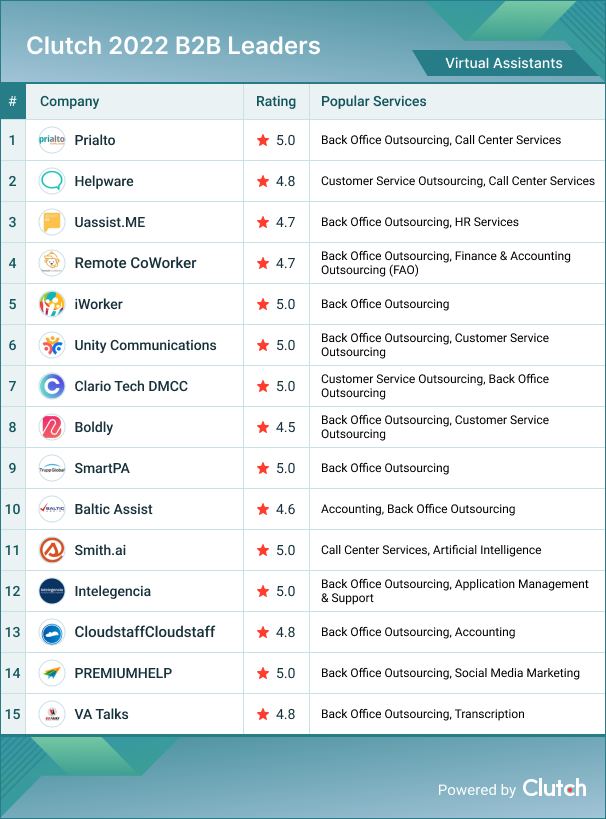 Content Creation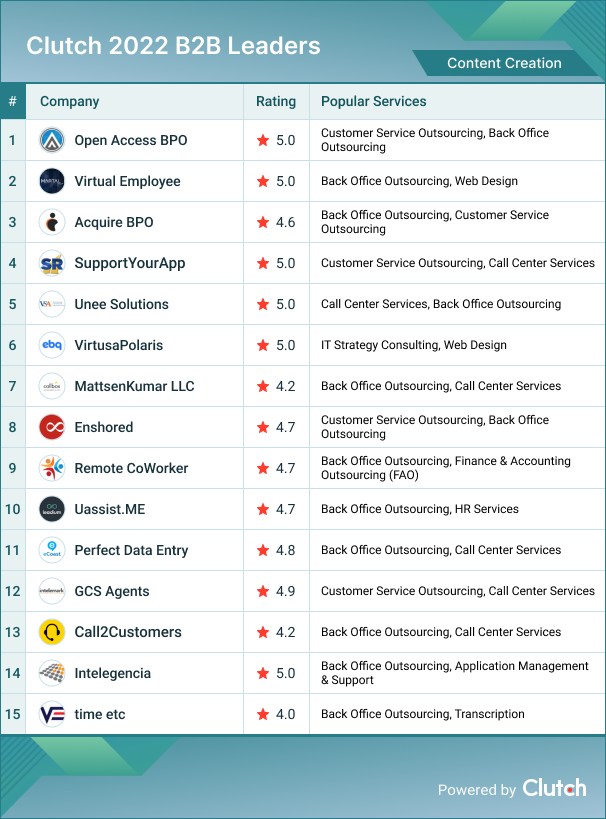 Virtual Receptionists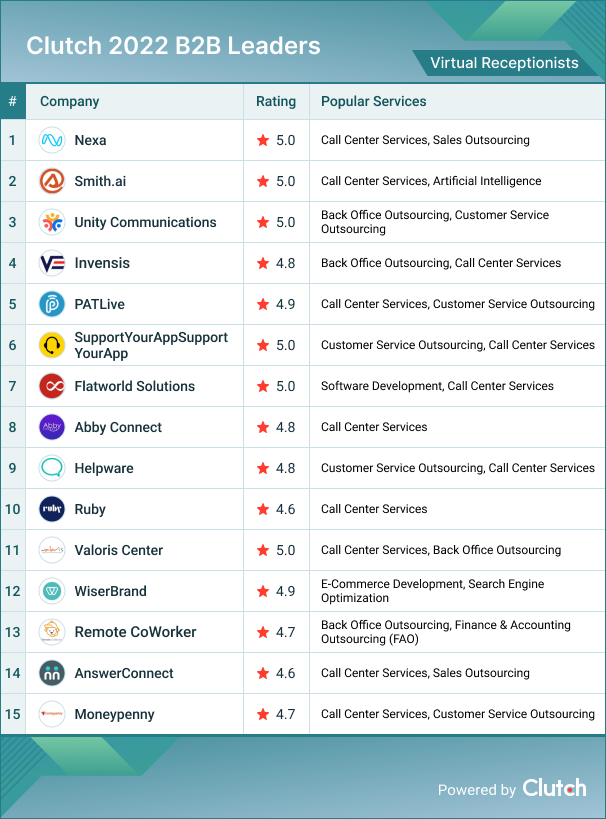 Inbound Appointment Setting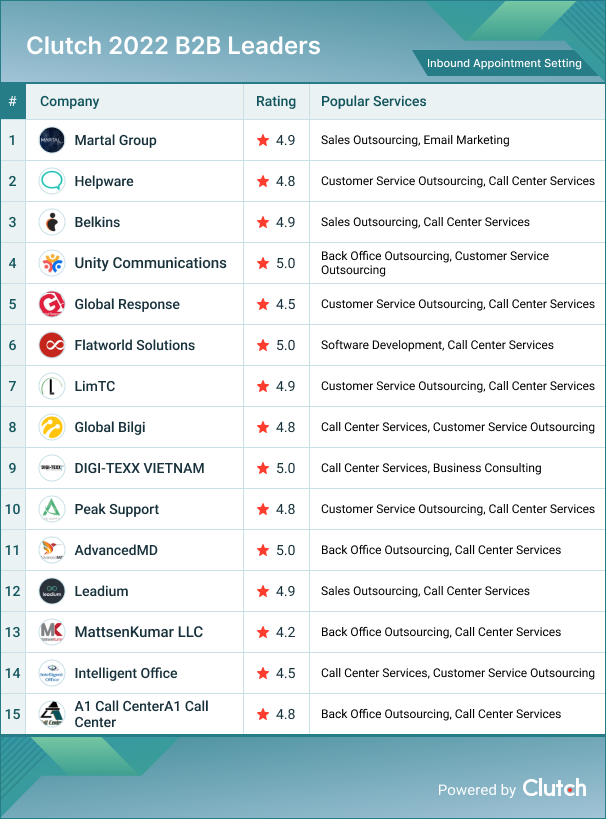 Answering Services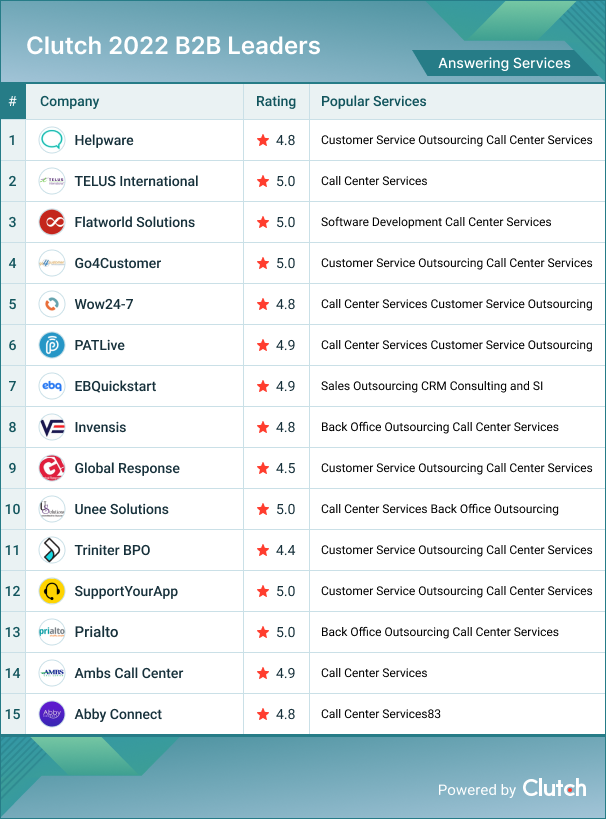 Third Party Verification
Collections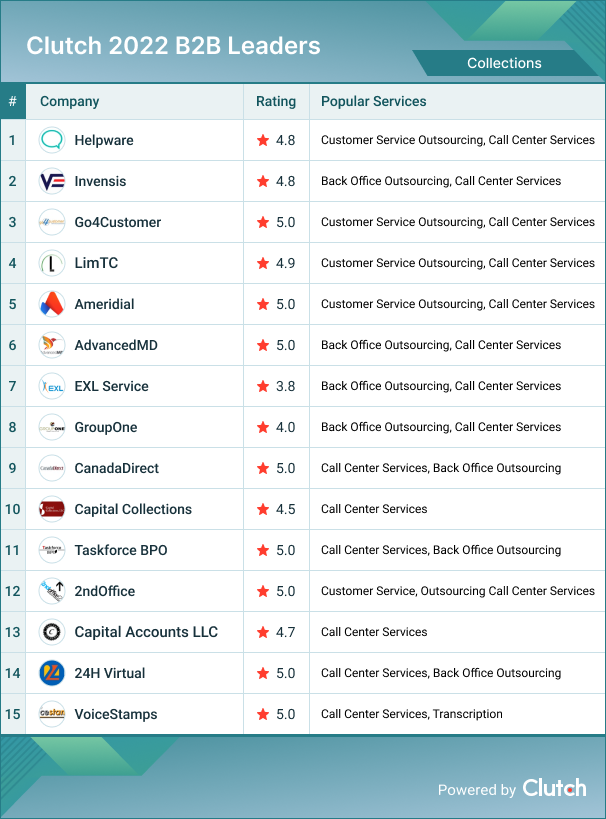 Survey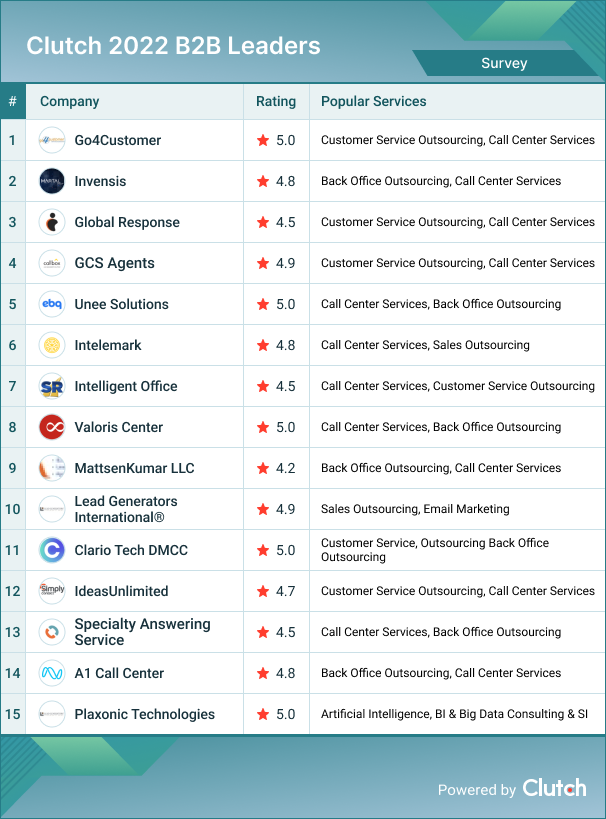 B2B Lead Generation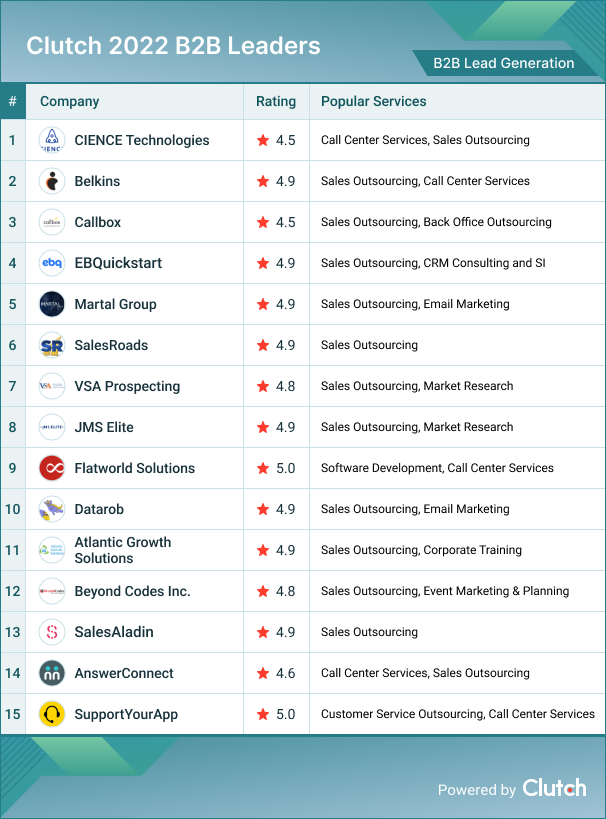 Appointment Setting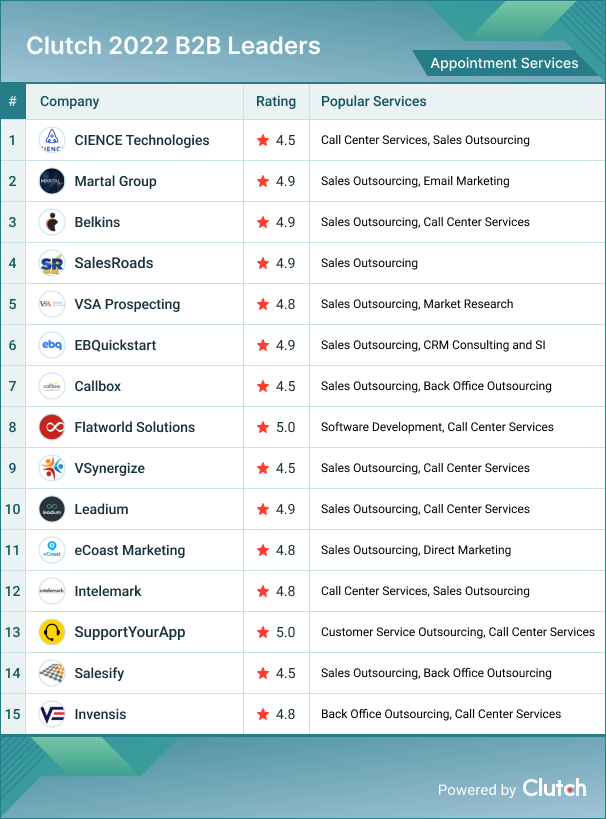 Lead Qualification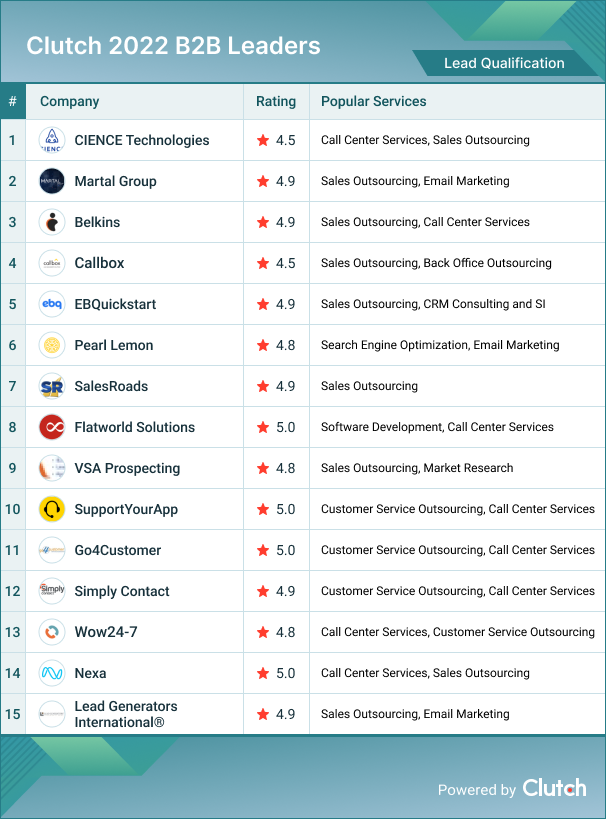 Results are a snapshot of Clutch's Leaders Matrices on February 15, 2022. Rankings are dynamic and this report may not reflect the rankings currently listed on Clutch's website.
About Clutch
Clutch is the leading ratings and reviews platform for IT, marketing, and business service providers. Each month, over half a million buyers and sellers of services use the Clutch platform, and the user base is growing over 50% a year. Clutch has been recognized by Inc. Magazine as one of the 500 fastest growing companies in the U.S. and has been listed as a top 50 startup by LinkedIn.
###