FOR IMMEDIATE RELEASE
Media Contact
Morgan Flores
Senior Manager of Content Strategy & SEO
awards@clutch.co
Washington, D.C., March 1, 2022— Washington DC-based B2B market research website, Clutch officially announces its 2022 rankings for the top-performing artificial intelligence companies and their specialties.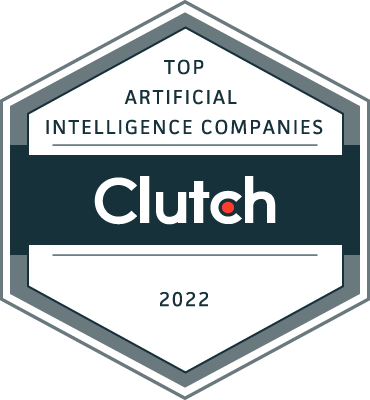 As companies look for ways to optimize their operations, the demand for AI solutions skyrocketed over recent years. A recent forecast from experts suggests that the global AI software market is poised to reach around $62.5 billion this 2022, a massive increase of 21.3% from last year's figures.
In this report, Clutch researches hundreds of service providers and evaluates them based on a strict set of criteria such as case studies, client testimonials, market position, and social media presence. The leaders chosen for this list specialize in various interdisciplinary branches and have proven track records. 
"Mastering and unleashing the full potential of your clients through AI is already an achievement in itself. These leaders showed how it's done through their impressive projects and success," said Clutch Senior Account Executive Ethan Lutz. "Congratulations to every one of these leaders! We look forward to witnessing more of your innovations this 2022."
The search for the best service providers doesn't stop. Curious as to how your business can qualify for next year's list? Register on Clutch and find out more about the steps!
Top Service Providers
Chatbots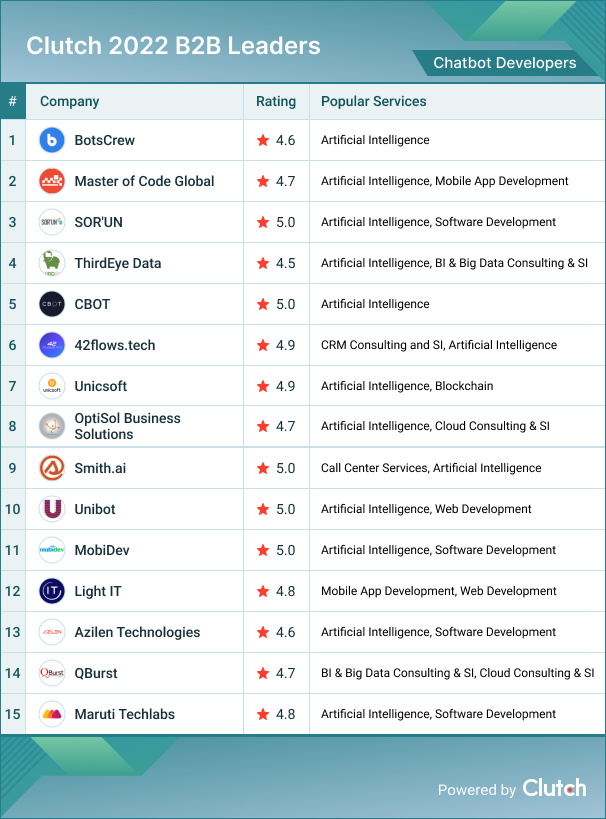 Cognitive Computing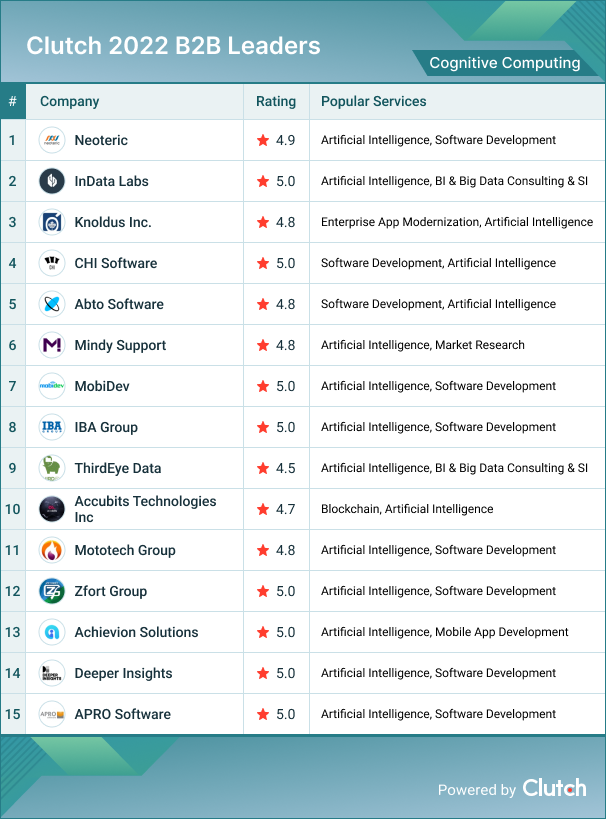 Machine Learning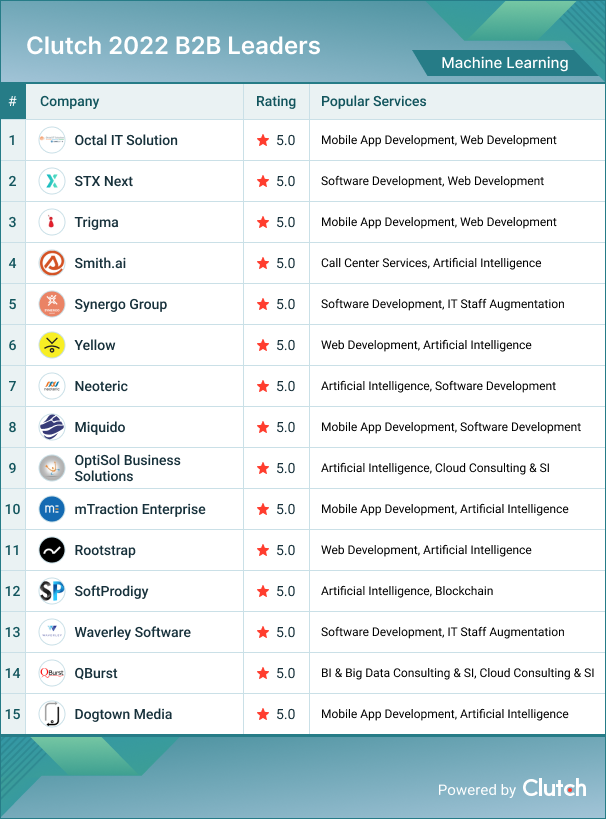 Natural Language Processing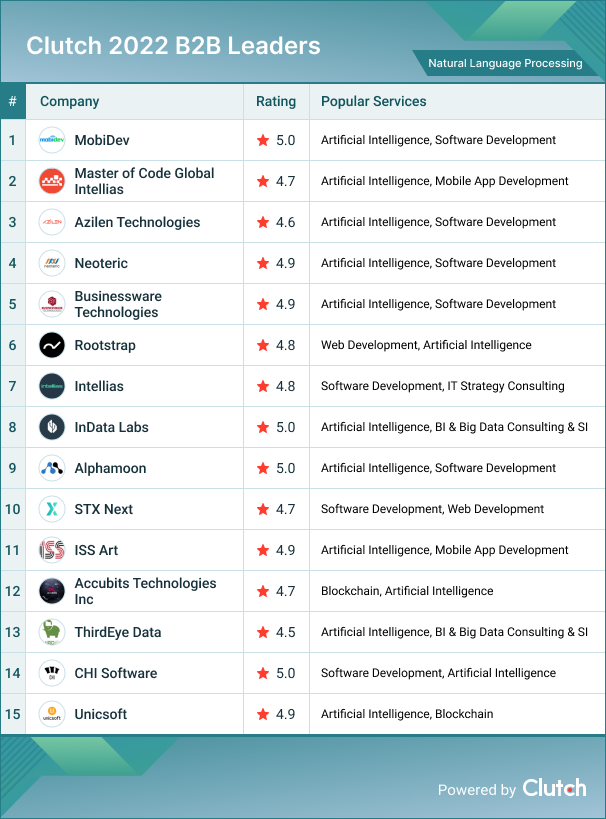 Robotics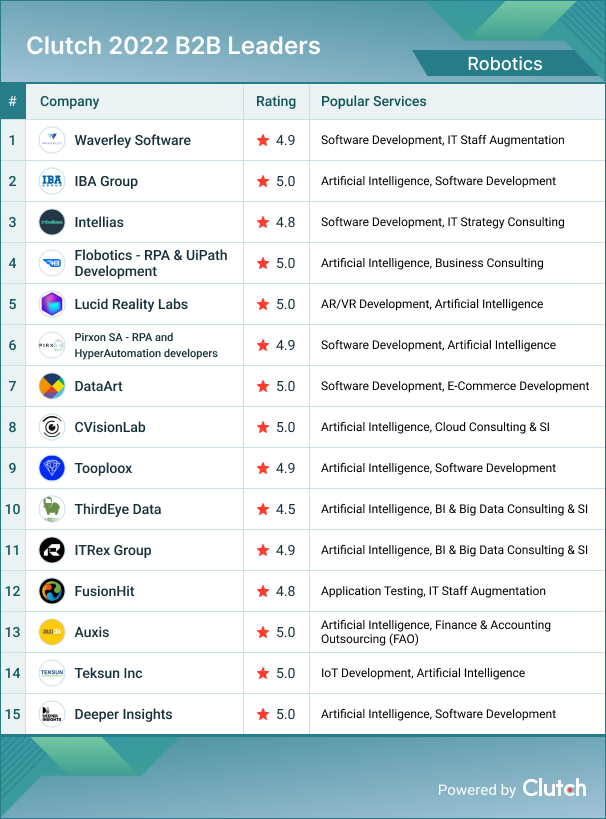 Results are a snapshot of Clutch's Leaders Matrices on February 22, 2022. Rankings are dynamic and this report may not reflect the rankings currently listed on Clutch's website.
About Clutch
Clutch is the leading ratings and reviews platform for IT, marketing, and business service providers. Each month, over half a million buyers and sellers of services use the Clutch platform, and the user base is growing over 50% a year. Clutch has been recognized by Inc. Magazine as one of the 500 fastest growing companies in the U.S. and has been listed as a top 50 startup by LinkedIn.
###