WASHINGTON, DC - December 01, 2021 - Washington DC-based review and market research website, Clutch publishes the official list of the top advertising and marketing companies from all over the world.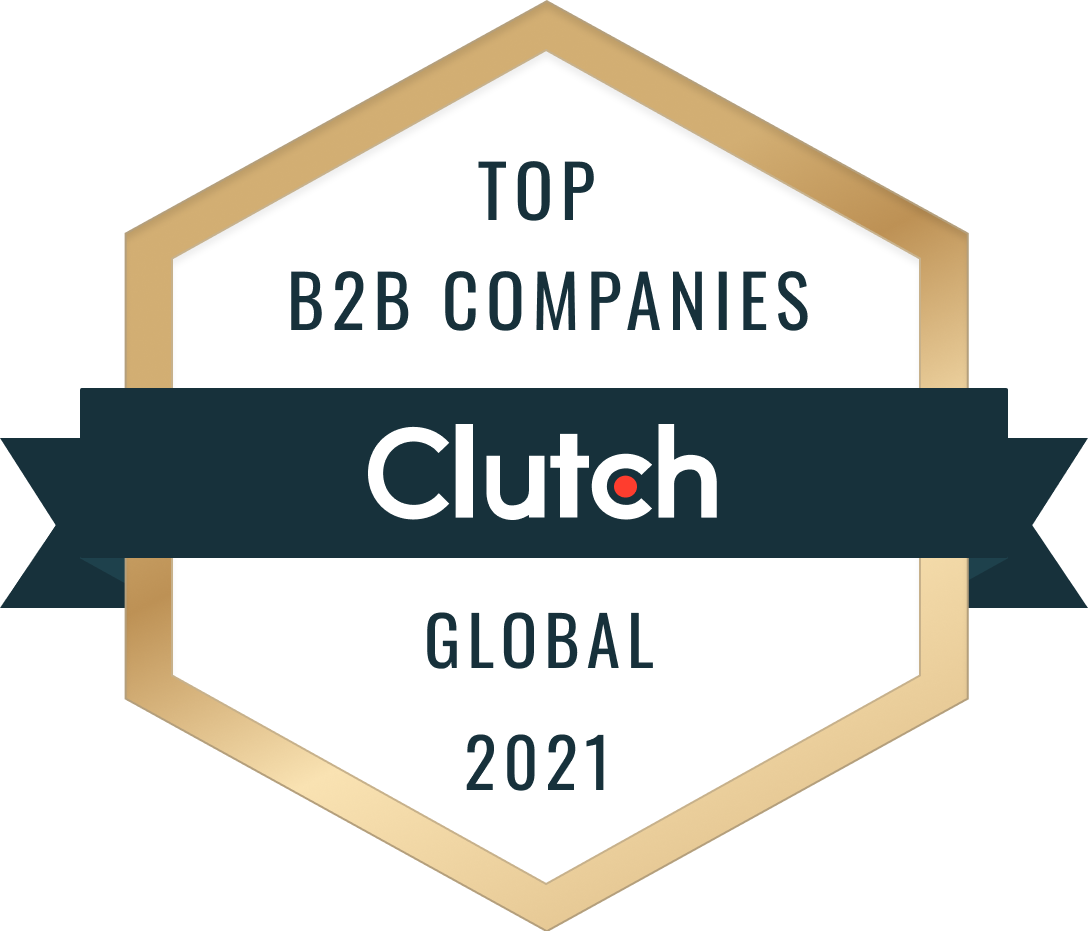 As COVID-19 influences consumer and market trends, advertisers and marketers from all over the world are left to focus more on digital growth. This year, worldwide advertising spendings are expected to grow by 11.2%, Meanwhile, the marketing sector sees an evolution with content creation and influencer culture.
In honor of their dedication, Clutch ranks the top 15 service providers from each of the following categories:
Advertising Agencies
Affiliate Marketing
Branding Agencies
Content Marketing Agencies
CRO Agencies
Digital Agencies
Digital Design Agencies
Digital Marketing Agencies
Digital Strategy Agencies
Direct Marketing Agencies
Email Marketing Agencies
Event Marketing Agencies
Inbound Marketing Agencies
Market Research Agencies
Marketing Strategy Agencies
Media Buying Agencies
Mobile App Marketing Agencies
PPC Agencies
Public Relations Agencies
SEM Agencies
SEO Agencies
Social Media Marketing Agencies
Out of Home Advertising Agencies
How does Clutch determine these leaders? A team of analysts goes through diligent research, analyzing each service providers' market position, past accomplishments, client satisfaction, and social media prominence. 
"It takes incredible resourcefulness and skills to make it through the ruthless advertising and marketing world, that's why these leaders astound us," said Clutch Director of Operations Kimmie Champlin, "Clutch is beyond proud to celebrate the dedication of these global leaders! Thank you for your service and immeasurable hard work!"
Aspiring to rank among the best? Sign up on Clutch today and learn how you can qualify for next year's award.
Here are the world's finest advertising and marketing companies:
Advertising Agencies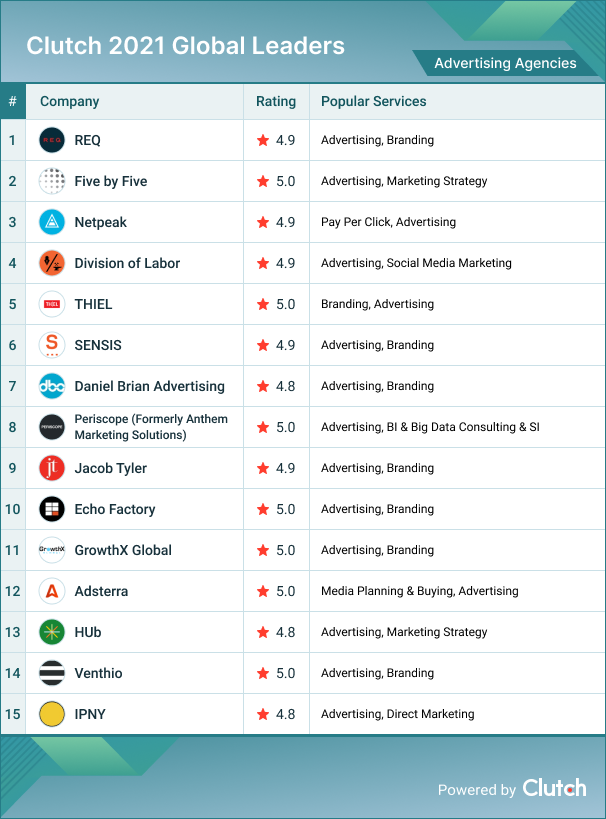 Affiliate Marketing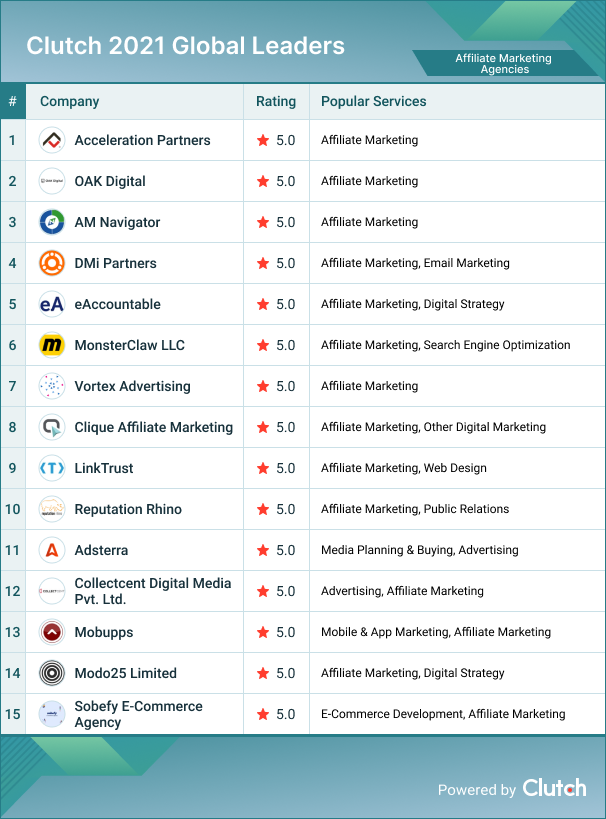 Branding Agencies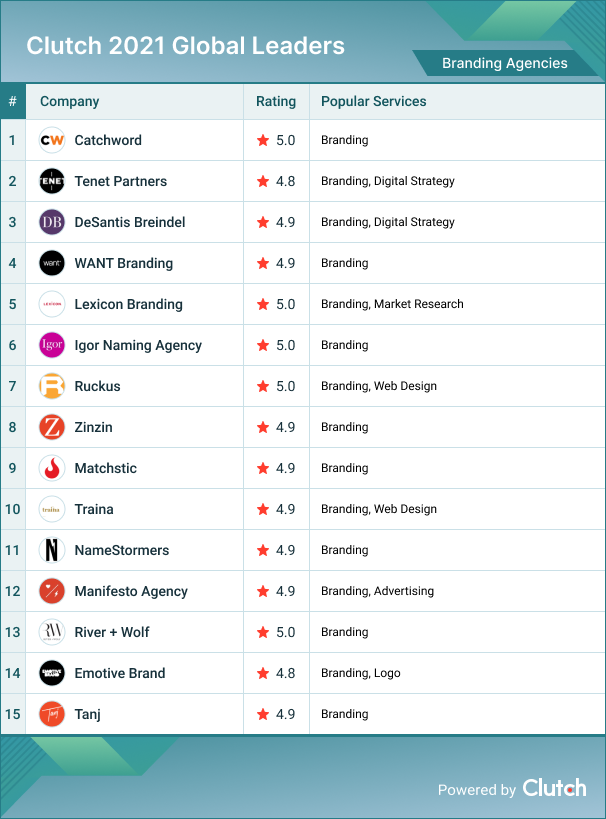 Content Marketing Agencies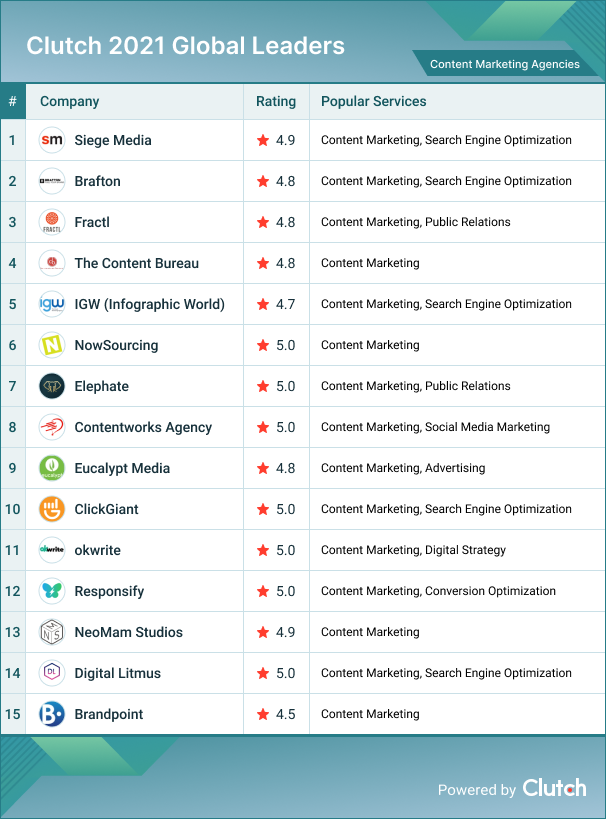 CRO Agencies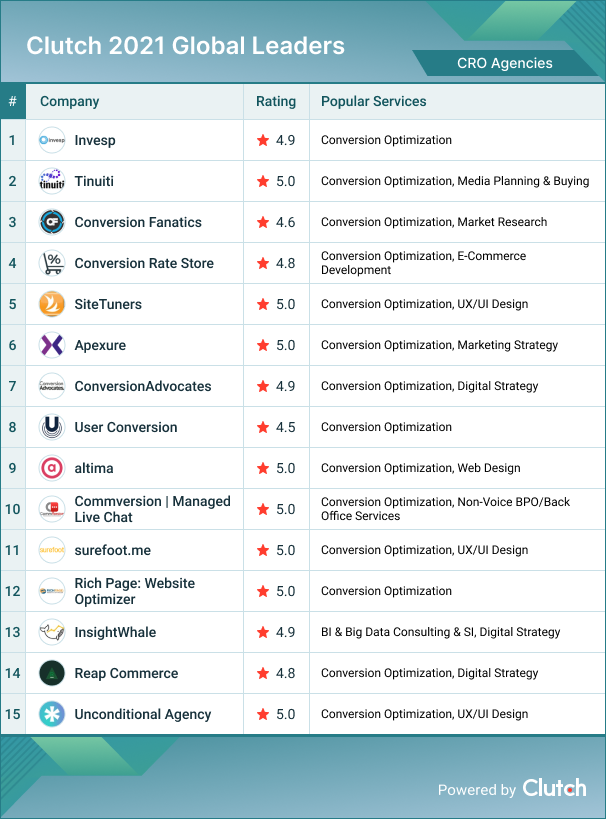 Digital Agencies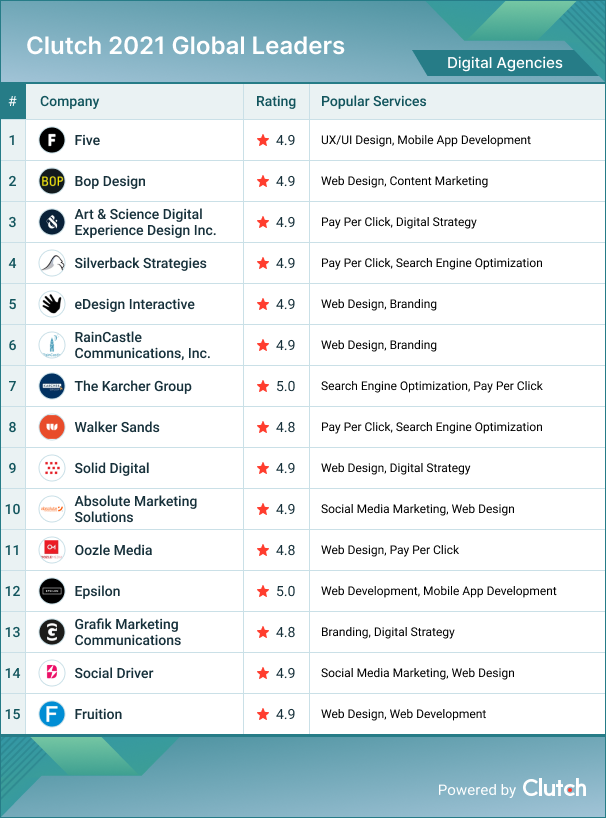 Digital Design Agencies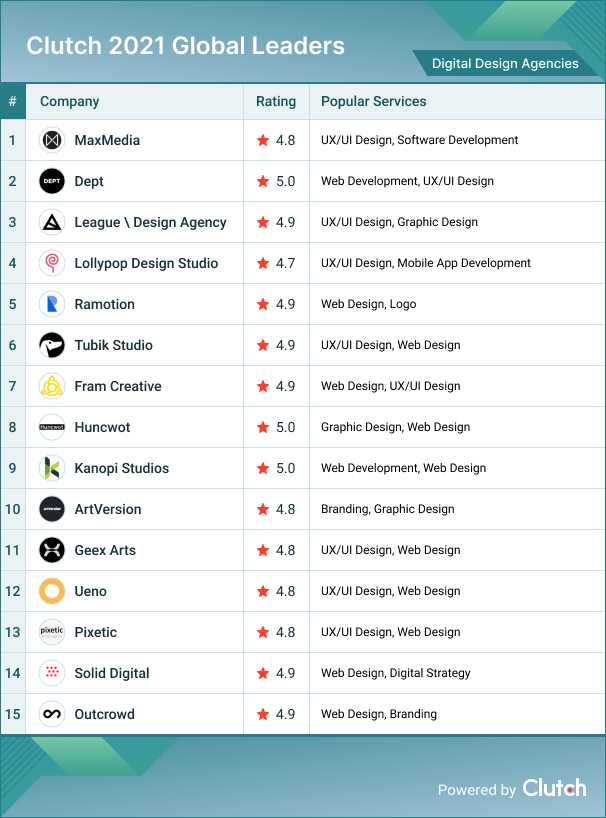 Digital Marketing Agencies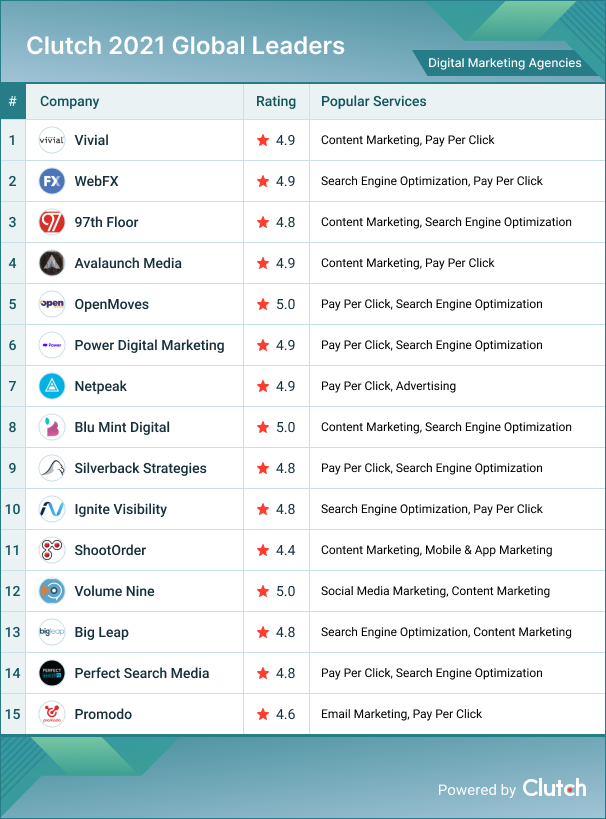 Digital Strategy Agencies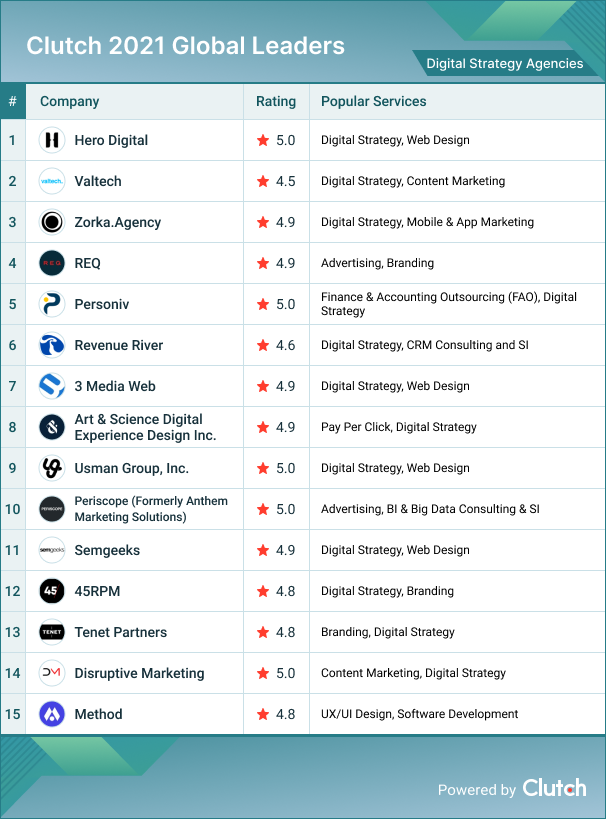 Direct Marketing Agencies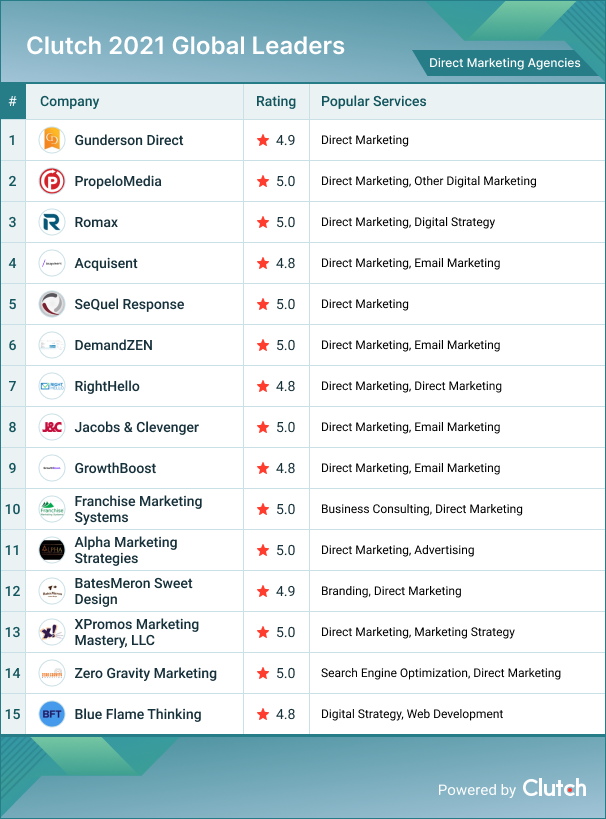 Email Marketing Agencies
Event Marketing Agencies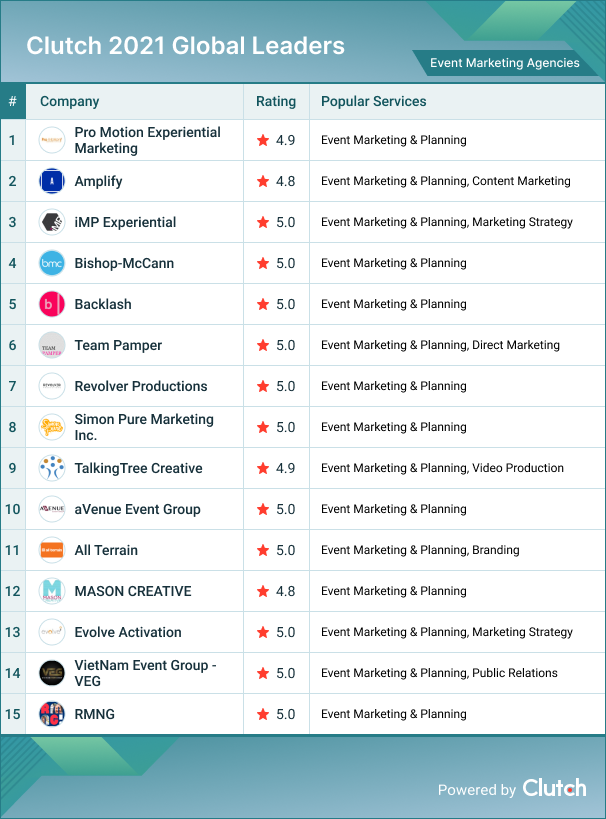 Inbound Marketing Agencies
Market Research Agencies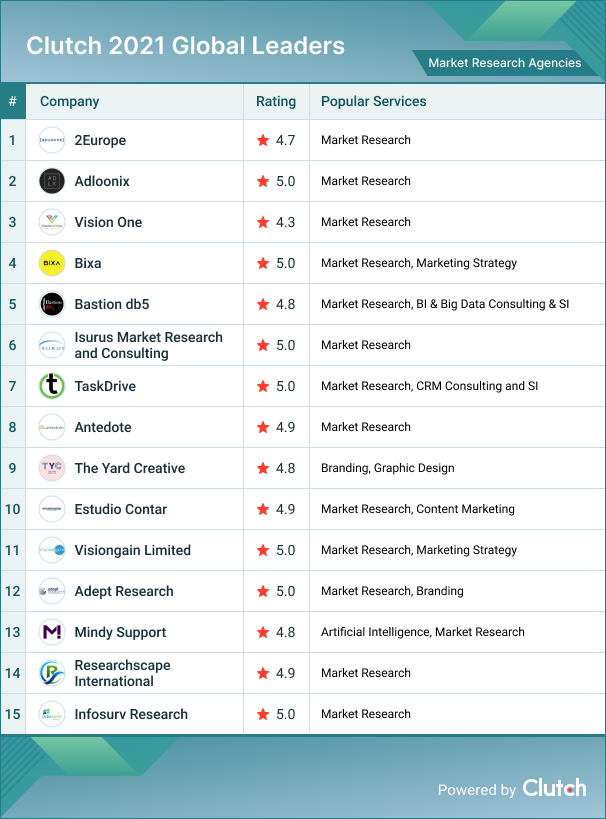 Marketing Strategy Agencies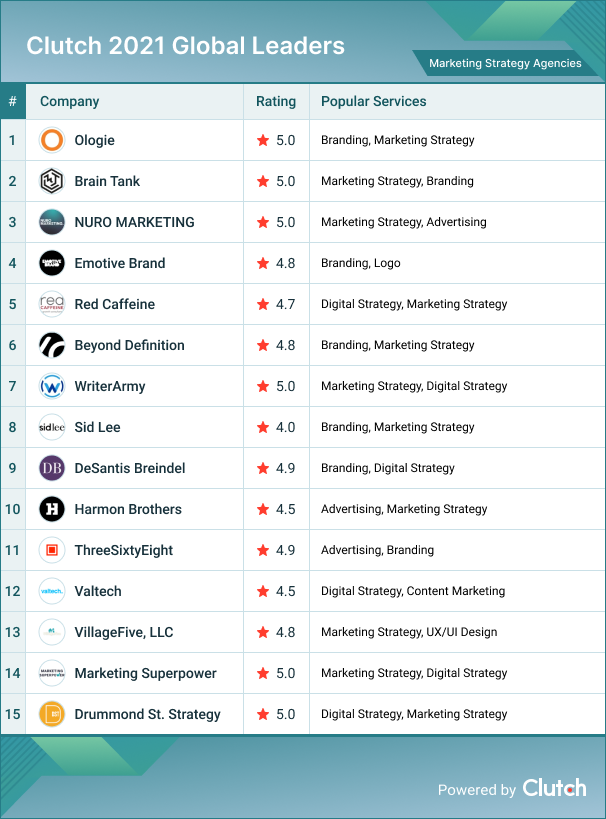 Media Buying Agencies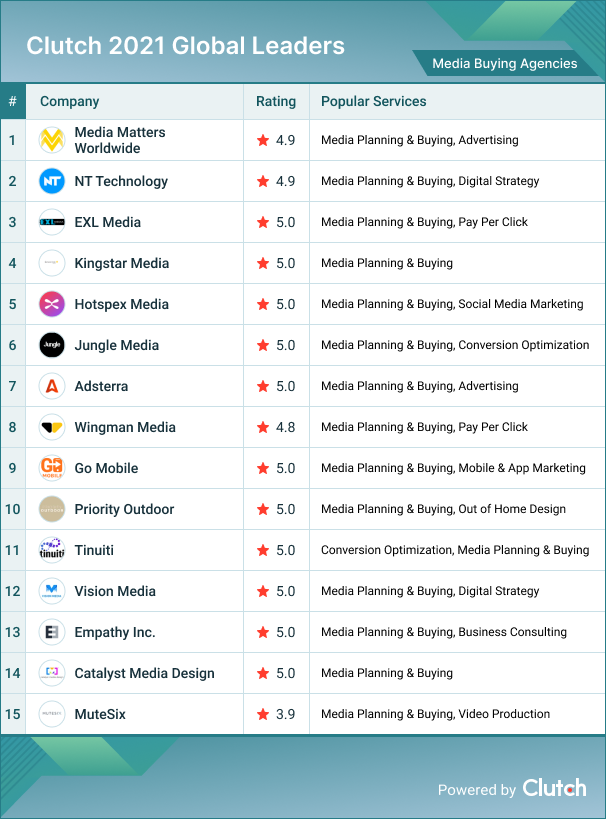 Mobile App Marketing Agencies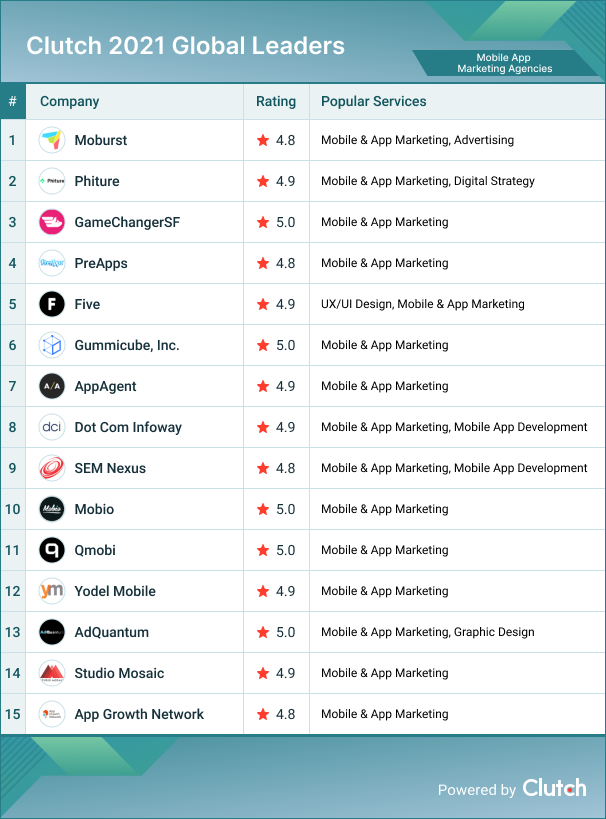 PPC Agencies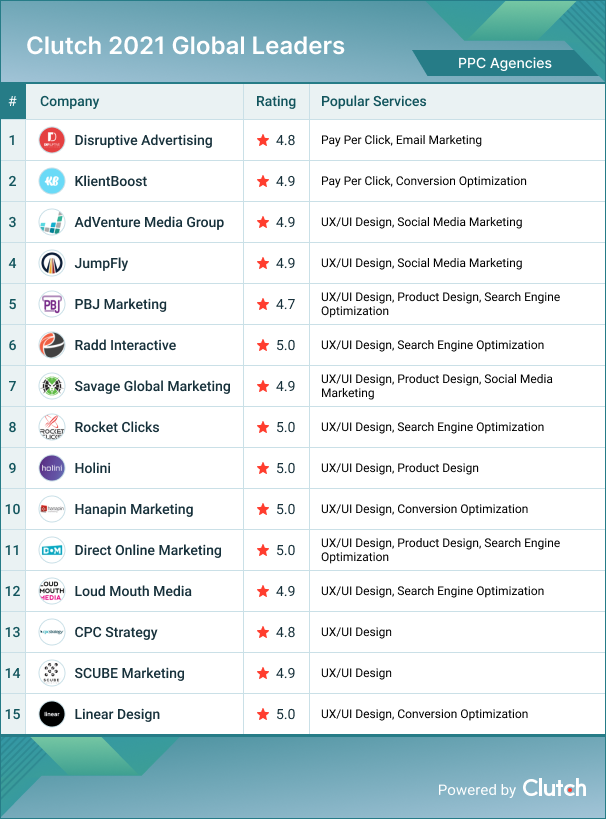 Public Relations Agencies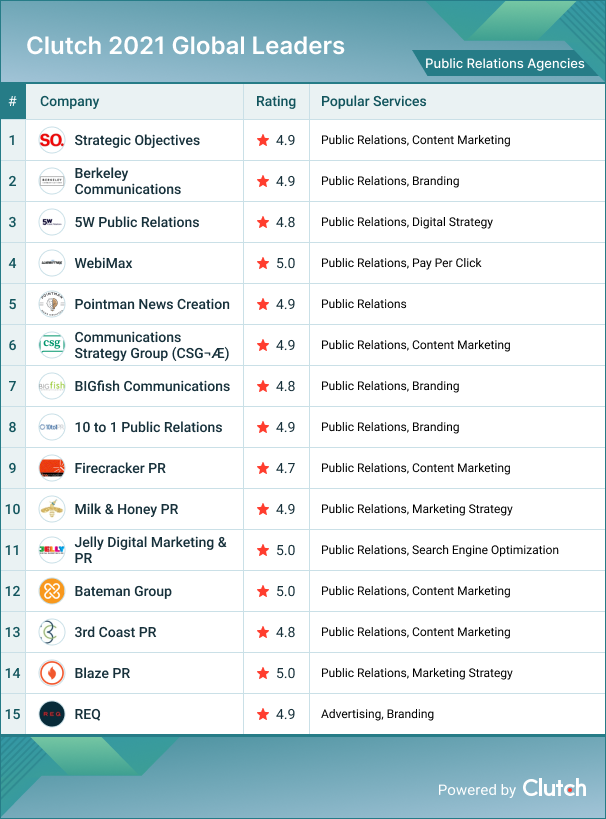 SEM Agencies
SEO Agencies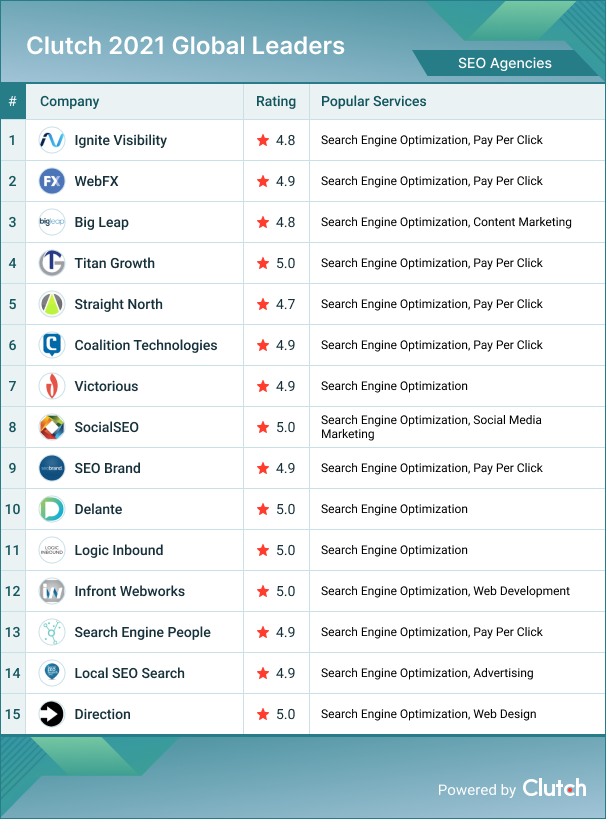 Social Media Marketing Agencies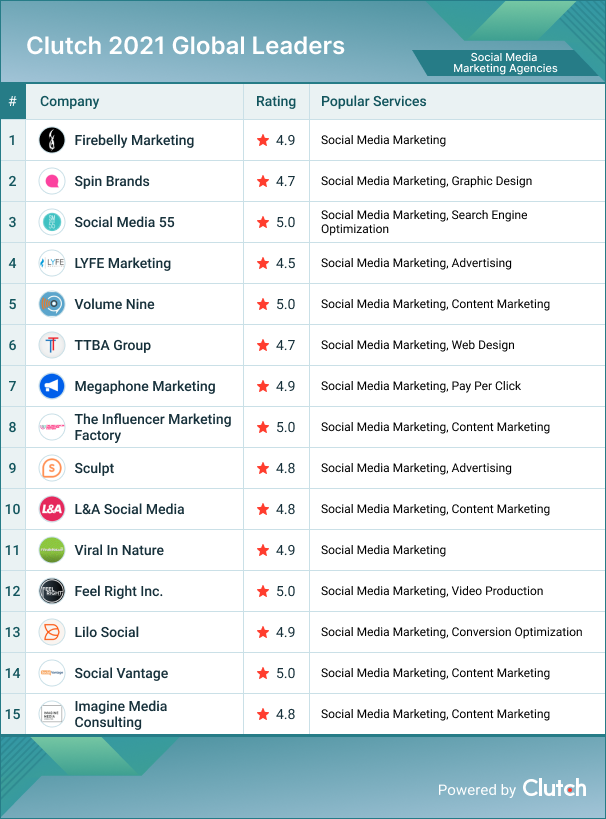 Out of Home Advertising Agencies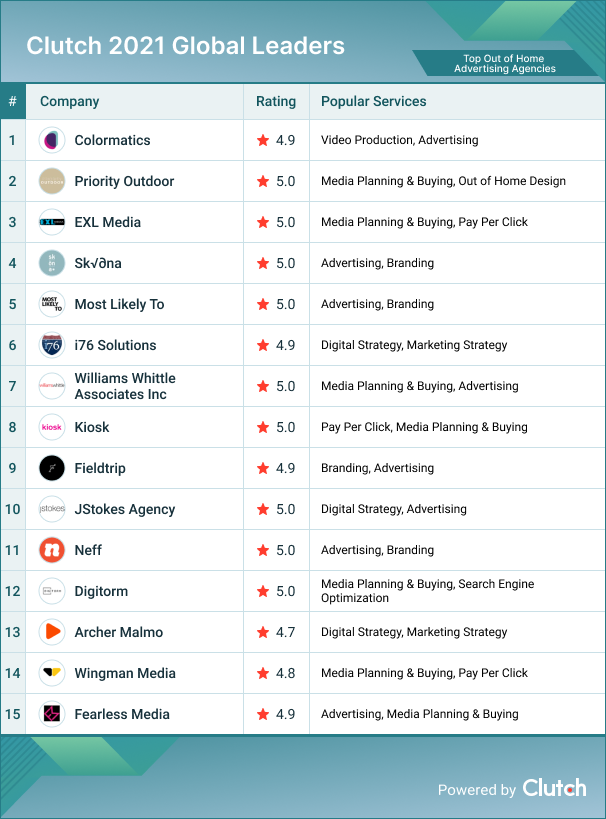 Results are a snapshot of Clutch's Leaders Matrices on November 11, 2021. Rankings are dynamic and this report may not reflect the rankings currently listed on Clutch's website.
About Clutch
Clutch is the leading ratings and reviews platform for IT, marketing, and business service providers. Each month, over half a million buyers and sellers of services use the Clutch platform, and the user base is growing over 50% a year. Clutch has been recognized by Inc. Magazine as one of the 500 fastest growing companies in the U.S. and has been listed as a top 50 startup by LinkedIn.
Contact
Anna Peck
awards@clutch.co